We run as one.

New year, new distances.
Our 5k training is designed with the beginning runner in mind. Our goal is to build your confidence by providing an approachable training plan, regular dialogue with a coach, and strategies to help you run smarter.
Program details
Our eight week spring session begins February 22, 2021.
The price of the session is $49.
Select one of three training tiers based on your goals.
We're partnering with the Bird app to help you stay in more regular contact with your coach, regardless of whether or not you attend small group meetups or run on your own. It's really easy to use and makes virtual almost as awesome as seeing you in person!
Our Ignite! Facebook group is a great way to connect with other runners. We'll publish educational content on this page each week. Head Coach Wade will host a weekly office hour on Mondays at 5 pm (your scheduled rest day), during which time he'll provide strategies to help you improve your running and answer any questions you have about your workouts.
A week before our session starts, you'll receive a meetup time that you can opt into at any point, matching you with other runners who have similar paces and goals. We will follow COVID protocols at these meetups.
Our target race is The Split 5k on April 18th, 2021.
Frequently Asked Questions
I registered for Ignite! but haven't received any emails outside of the confirmation email. When should I expect to receive communication?
You'll receive an email a week before our program launches, with a time and place for weekly meetups. Your other communication will be sent through the Bird app. You'll receive your workouts on the app, as well as a daily text reminder, asking you to update your coach on whether or not you did your workout (or planned rest, or cross-training.) You can continue your dialogue with your coach, within the app, whenever you want! You can also connect with other runners in the program within the app itself as well as in our Ignite! Facebook group.
Last year there were coached Zoom calls. Are those a thing?
Sorta. We're just using a different platform. Each Monday evening, join our head coach Wade Pannell in a Facebook live session to cover running-related topics. The purpose of these calls are to provide you with strategies to improve your running and answer any questions you have about your workouts. Kind of like "office hours"!


Who will be leading weekly meetups?
Our team of local run leaders will coordinate meetups with local run mentors. Read more about who these folks are here.


What will small group meetups look like?
We are committed to following local and federal government COVID-19 guidelines for group training. Currently, that means we will be limiting the size of meetups and meeting outside so that we can keep six feet apart. We ask that you remain masked whenever you cannot keep appropriately physically distanced. We will also continue to offer robust opportunities to connect with your coach and other runners virtually to ensure we meet you at the level you feel comfortable participating.


How do I receive my workouts?
You'll receive your workouts each day via the Bird app. Each day you'll also receive a text message, asking you to update your coach on how your workout went. When you register for the program, you'll receive a link to download the app on your Apple or Android device.


What if I don't have a smart phone? Can I still participate?
You will need a smart phone to participate because you receive your workouts through the Bird app. We believe that app-based training is the best way to grow and evolve our training and continue to be as inclusive as possible, especially for those in our community who for health or safety reasons, can only train virtually.
Head Coach Wade Pannell
Our Ignite! head coach, Wade Pannell, found running the way you might have as well: he stopped into a Fleet Feet. In his 8+ years as a business owner, he has coached athletes to train for their first 5k, as well as their first Ironman triathlon. We asked him to answer a few questions about his running, coaching, and COVID-19 experience.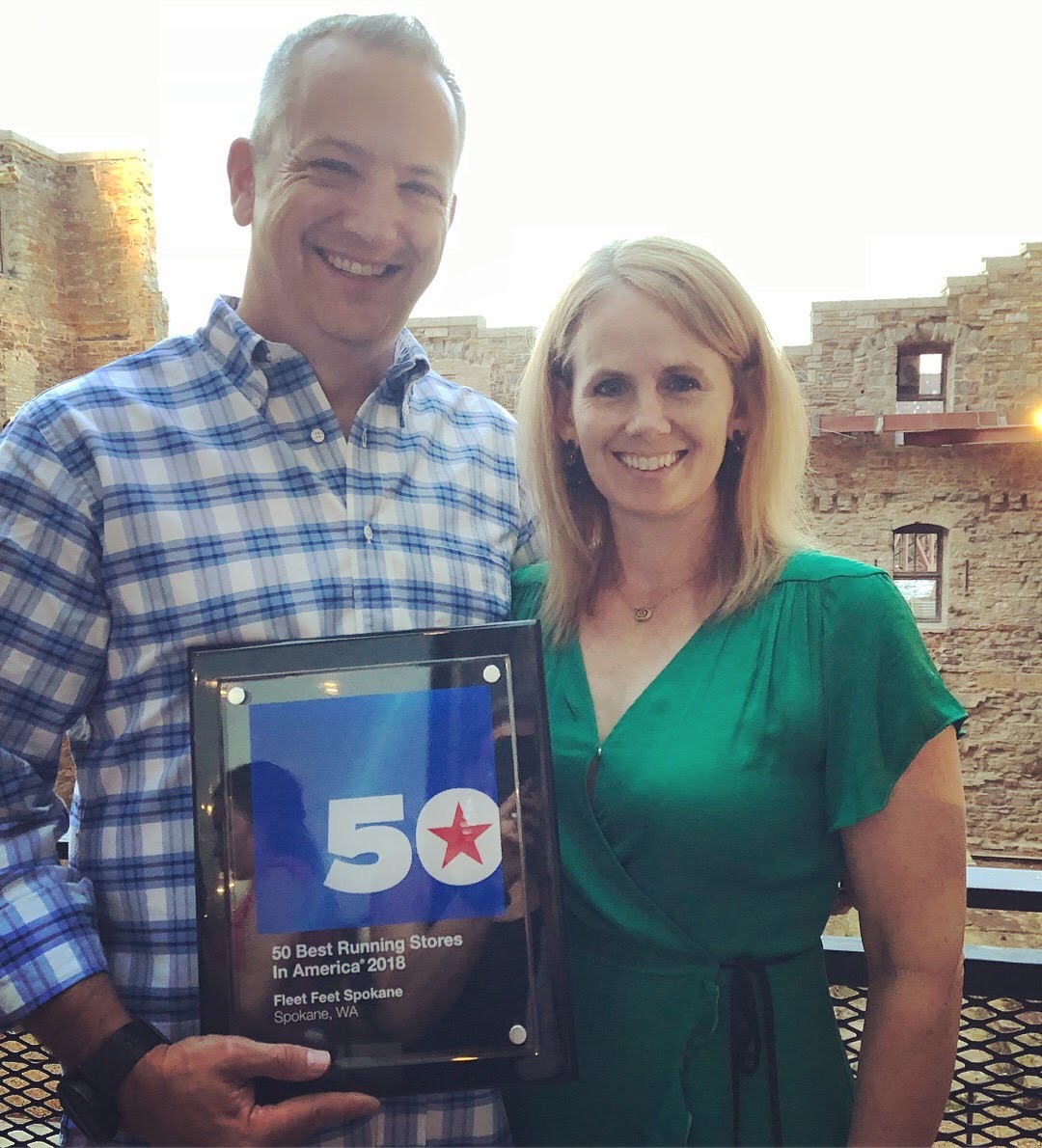 Wade with his wife and business partner, Julie
How did you first find Fleet Feet, and how did your experience create transformation in your life?
When I needed a change in my fitness, I turned to Fleet Feet Bozeman as my local running store for all the advice and products to meet my needs. While Ignite! was not a program in Fleet Feet at the time, I completed a similar program in the gym space next door to gain the fitness and endurance to become a runner. It wasn't easy, and it took a lot of determination, but I remember to this day the first time I finished a 5k in under 30 minutes. The hook was set and I wanted to continue my journey to become a runner.
Provide a brief overview of your coaching experience.
I grew up playing soccer and my first coaching experiences were for club teams at the collegiate level. Once in my career, I fell away from athletics for a long time, but when I became a runner and triathlete, I turned to Matt Dixon as my coach and mentor. I saw how Matt impacted so many people from beginners to pros, instilling in me the desire to help others accomplish their goals. My coaching experience began when we opened Fleet Feet and our very first No Boundaries program. Over the years, I have coached individuals and groups in everything from Couch to 5k programs, all the way to Ironman distance races, and many from the first 5k all the way to completing an Ironman five years later. While it is always fun to see someone finish a marathon or an Ironman and overcome such endurance events, there is no greater joy than to see the faces of people finish their first 5k and go on to find the fitness community and build friendships that last a lifetime!
Provide a brief history of your racing/competing experience.
As a youth, I was a cyclist (both road and mountain), soccer player, and time trial specialist. I picked up running at the age of 35 and within a year finished my first marathon (I wouldn't recommend this approach). I went on to qualify for the Boston Marathon four years later and finish my first and only Ironman in the following year. As a triathlete, I focused mostly on the 70.3 (half Ironman) distance, a race that was difficult and required excellence in all three disciplines, but that was still short enough that it didn't wreck you for a couple weeks after the race. During the height of my racing, I was a solid top 10% age-grouper in national scale events. Endurance competition is a race against yourself. Some days, it is just a challenge to finish. For anyone starting this journey, it is one foot in front of the other, over and over and over again. It never feels good while you are doing it, but such a rush of accomplishment when you have completed the goal.
How has COVID-19 and 2020 changed your perspective on being a business owner? How have you been challenged or humbled?
The pandemic, the shutdowns, and the polarized nature of our current culture has definitely brought some of our priorities and business objectives into question. That being said, it has brought us back to our roots and made us reconsider where we focus our time and efforts. The hardest change is the impacts to races, training groups, and people running together. The main goal for the coming season is to bring people together and find ways to provide the expertise and resources to our communities. The concerns over the pandemic have kept people from our stores and limited our time together; it has complicated our capacity to reach new customers and continue to grow our running community. I am hopeful that we will be prepared to return to group training and racing in 2021.
In your community, who is responsible for cheering you up, and why?
I would say my wife and business partner, Julie, is the best at cheering me up. My grandkids do a fantastic job of reminding me what is truly important and to hope for them and future generations.
Spring 2021 5k Training More Info »
Program Start: February 22, 2021
Program Schedule: Workouts delivered to you daily via the Bird app, in addition to a weekly call with Head Coach Wade and small group meetup opportunities with others.
Program Fee: $49
Description: Join our Ignite! 5k training program. We start our virtual 8-week program on February 22, 2021.