Everyone's an athlete.

Our 5k training is designed with the beginning runner in mind. Our goal is to build your confidence by providing an approachable training plan, regular dialogue with a coach and strategies to help you run smarter.
Program details
Start date: October 5, 2021
Duration: 8 weeks
Price: $49+processing fees/taxes
Workout schedule: Mondays are rest days. Tuesdays (at 5:30 pm) and Saturdays (at 9 am) are group workouts at Kendall Yards. We'll continue to follow COVID-19 guidelines for group training meetups and adjust our protocols as they change.
Workout delivery: we have three different training tiers based on your level of fitness. We'll match you with your best fit on the first week of training, and provide a printed copy for you.
Other perks: our Ignite! Facebook group is a great way to connect with other runners. Every participant receives a Gear Up card they can use for discounts in-store at Fleet Feet Spokane for the duration of training (up to $60 in savings!)
We're partnering with Huffin for the Stuffin on November 25, 2021. Group participants receive a registration discount. We welcome runners in our Spokane community training for other races and are happy to adjust your plan to meet your goals.
Register here.
Head Coach Wade Pannell
Our Ignite! head coach, Wade Pannell, found running the way you might have as well: he stopped into a Fleet Feet. In his 8+ years as a business owner, he has coached athletes to train for their first 5k, as well as their first Ironman triathlon. We asked him to answer a few questions about his running, coaching, and COVID-19 experience.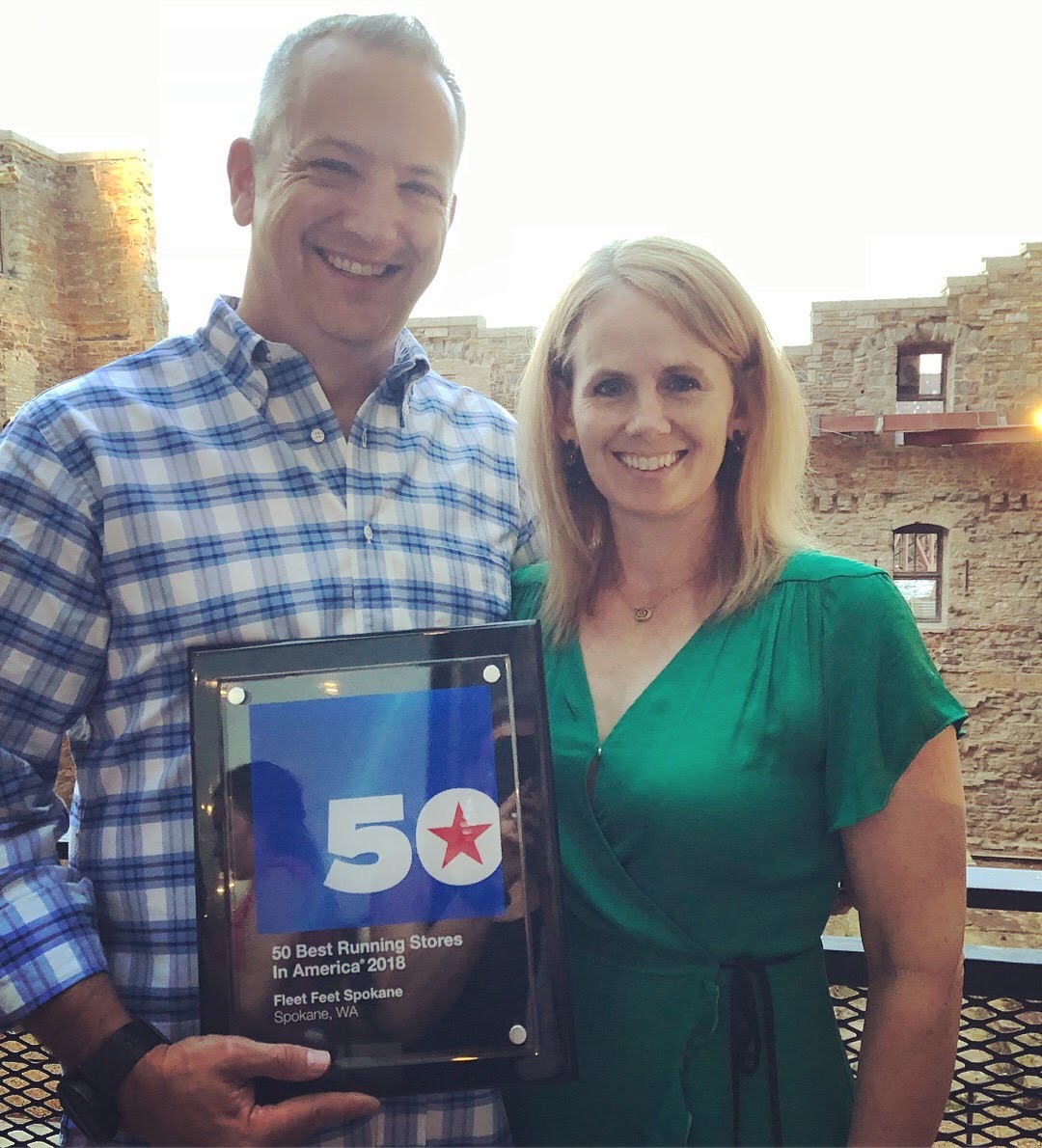 Wade with his wife and business partner, Julie
How did you first find Fleet Feet, and how did your experience create transformation in your life?
When I needed a change in my fitness, I turned to Fleet Feet Bozeman as my local running store for all the advice and products to meet my needs. While Ignite! was not a program in Fleet Feet at the time, I completed a similar program in the gym space next door to gain the fitness and endurance to become a runner. It wasn't easy, and it took a lot of determination, but I remember to this day the first time I finished a 5k in under 30 minutes. The hook was set and I wanted to continue my journey to become a runner.
Provide a brief overview of your coaching experience.
I grew up playing soccer and my first coaching experiences were for club teams at the collegiate level. Once in my career, I fell away from athletics for a long time, but when I became a runner and triathlete, I turned to Matt Dixon as my coach and mentor. I saw how Matt impacted so many people from beginners to pros, instilling in me the desire to help others accomplish their goals. My coaching experience began when we opened Fleet Feet and our very first No Boundaries program. Over the years, I have coached individuals and groups in everything from Couch to 5k programs, all the way to Ironman distance races, and many from the first 5k all the way to completing an Ironman five years later. While it is always fun to see someone finish a marathon or an Ironman and overcome such endurance events, there is no greater joy than to see the faces of people finish their first 5k and go on to find the fitness community and build friendships that last a lifetime!
Provide a brief history of your racing/competing experience.
As a youth, I was a cyclist (both road and mountain), soccer player, and time trial specialist. I picked up running at the age of 35 and within a year finished my first marathon (I wouldn't recommend this approach). I went on to qualify for the Boston Marathon four years later and finish my first and only Ironman in the following year. As a triathlete, I focused mostly on the 70.3 (half Ironman) distance, a race that was difficult and required excellence in all three disciplines, but that was still short enough that it didn't wreck you for a couple weeks after the race. During the height of my racing, I was a solid top 10% age-grouper in national scale events. Endurance competition is a race against yourself. Some days, it is just a challenge to finish. For anyone starting this journey, it is one foot in front of the other, over and over and over again. It never feels good while you are doing it, but such a rush of accomplishment when you have completed the goal.
In your community, who is responsible for cheering you up, and why?
I would say my wife and business partner, Julie, is the best at cheering me up. My grandkids do a fantastic job of reminding me what is truly important and to hope for them and future generations.
Fall 2021 Ignite! 5k Training More Info »
Program Start: October 5, 2021
Program Schedule: Eight week run/walk interval training. We offer experienced coaching and two in-person group training sessions each week.
Program Fee: $49+processing fees/taxes
Description: Join our Ignite! 5k training program. We start our 8-week program on October 5, 2021.