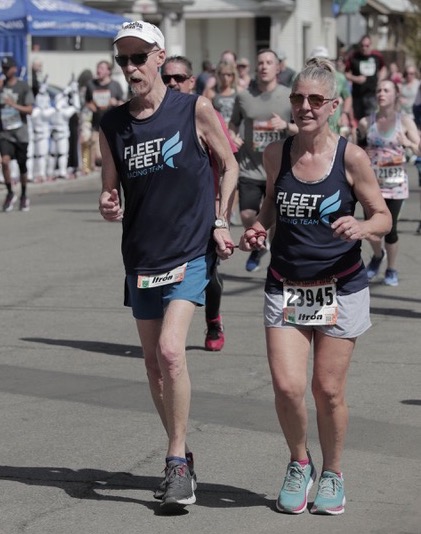 "Since becoming blind, running is more important to me than ever. Nothing makes me feel more normal than when I am running […] It gives me great joy."
We love hearing stories of inspiration and resilience from our customers and within our communities. In such uncertain times, we sought an interview with John Harris, who has looked uncertainty in the face many times, and refused to let it paralyze or stop him, even when it made him blind. We hope you enjoy his story, and we'd love to hear yours.
_______________
In 1976, after two years serving in the U.S. Navy, 22 year old John Harris started his undergraduate degree at the Anchorage Community College in Alaska. The only thing John knew about running was that it was reserved for the basketball court, football field, and Little League. Then, one day, a fellow student invited him out for a jog. John laced up his Converse basketball shoes, met up with his new running partner, and within the hour they had run somewhere between three to four miles together. Not playing any sport. Not training for some college event. Just two individual students enjoying the fresh air, some cardio, and each other's company. John had caught the running bug.
Shortly thereafter, John Harris bought his first pair of Nike running shoes and started to put in some miles. Within months he had his first 5k race under his belt (or feet, you could say) and was itching to find more races.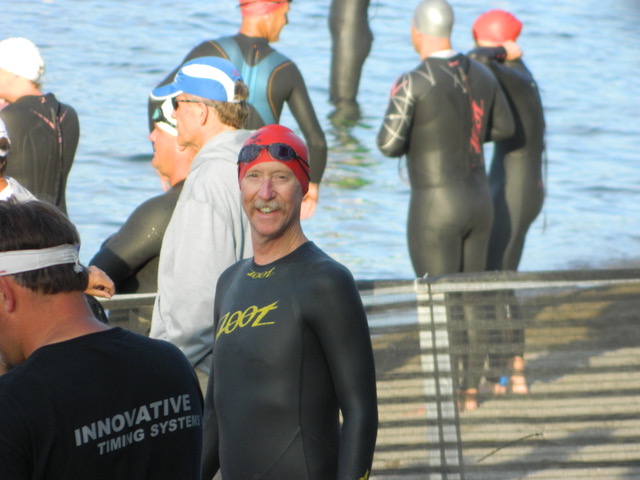 By 1984, John added 10k, half marathon, and even a few full marathon race finishes to his running resume, and decided to add a couple more sports to what he was doing. So he started doing triathlons. Having served seven years as an Alaska State Park Ranger, two years in the Navy, as well as some years as a mountaineering, skiing, climbing, and mountain guide, John was ready for life's next challenge of endurance. He moved to San Diego to pursue the rest of his education and entered, arguably, the heart of the triathlon scene. He had the endurance, the heart, the skill and the resume, but one major piece was missing to his dream of being a triathlete. John didn't know how to swim.
So he taught himself. He swam when he could. He went out into the ocean and practiced until he was finally comfortable enough to compete. John remembers being in Delmar, California, the "hub of the tri-culture" at the time and seeing triathlete legends Scott Tinley and Mark Allen and thinking about how cool it was that he was competing in the same triathlons as these gold medalists.
Like anyone born and raised in the northwest, John missed it out here. So he moved back to Spokane in 1988. He even sold his racing bike, thinking he was leaving triathlons behind too; he assumed there wasn't really a "scene" out here (we know how wrong he was!).
Shortly after moving to Spokane, John realized that he had made a mistake in selling his bike and ended up competing in his first Spokane triathlon with a mountain bike. He still remembers the announcer calling him out as he began his transition into the running segment as "the first mountain bike crossing the finish line" in the race.
Spokane is also where John met his wife, Kathryn. He went back to grad school at Eastern Washington University. He worked a part-time job, had three kids, and did his homework. He was in his 30s. He loved this life. His past had developed an endurance mindset, so to him, nothing was too much.
_______________
And then, starting in the early 2000s, John confronted another major challenge in his athletic career. He got cancer. And not just one cancer, but five. For the next fifteen years, he went in and out of the hospital with liver cancer, melanoma, lymphoma, basal cell cancer, and squamous cell carcinoma. Every time he went into the hospital, his mind was set on getting out and back onto the road to train.
In November of 2015, life threw another punch at John Harris. Due to some complications from an emergency abdominal surgery for a ruptured small intestine, John completely lost his eyesight. The once multi-marathoner, triathlete, mountaineer (who summited three major peaks in four days), and ex-Alaska State Park Ranger was now completely blind.
But endurance had the final say. John still runs almost every day with his wife Kathryn. By holding a short rope that connects her leading hand to his, John is able to go out onto the Centennial trail and put in his miles each week.

"I love when our breathing aligns, our footsteps match and our arms swing in perfect unison […] When I am out on the road running, I feel normal. In fact, it is the only place in the world at any given time that I feel normal. [Running] is my best physical and mental therapy."
John and Kathryn will also go riding on their tandem bike together and John loves to hear the river rushing, the birds singing, and the people enjoying life around him. In the basement of his home John has a rower, stationary bike, and a treadmill. Every other day, John will go downstairs and train as if he were to race in a triathlon. He says he spends between two to five hours every other day in that basement, with the rest of his week thoughtfully reserved for outdoor activities with his wife (such as running and biking along the Centennial Trail).
John Harris embodies endurance as a way of life. For him, racing is not so much about crossing the finish line first, or even crossing the finish line at all. Racing is about the moments collected during training and spending time with training partners. It's about the miles and hours that you pour into what you love. It's about getting back up on the horse when it kicks you off and developing a mindset that allows you to overcome every unexpected beating. When looking back over the last 40-something years of his life, John recalls one main thought going through his head no matter what punch life was throwing at him: "I run, therefore I am. I am, therefore I run." To this day he is unsure which one of these is more accurate. Running has become second nature to him, and he chooses to allow this discipline—not illness or disease—to define him.
Interviewed and written by Ein Huie