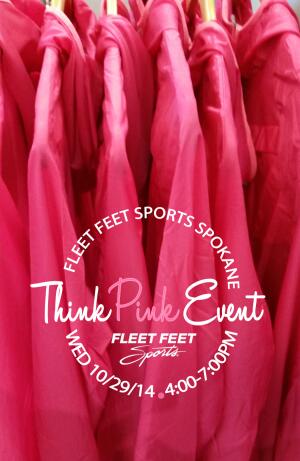 Join us on Wednesday, October 29th for our Think Pink Event.   
It's Breast Cancer Awareness month which means we will be hosting Pink merchandise that gives back...like Balega's Grit & Grace socks, Newton's Pink Gravity shoes and Enell Pink Bras.  We will have Bra Fittings all evening as well as snacks, drinks, giveaways and 20% off all pink apparel!  Earn raffle tickets when you RSVP to the event and schedule your Bra Fit.  AND bring a friend for an additional raffle ticket!  We will be giving away a FREE Bra at each store!
When: Wednesday, October 29th from 4-7pm.
Where:  Fleet Feet Spokane and Fleet Feet Spokane Valley