Get Fit. Have Fun.
Lose Weight.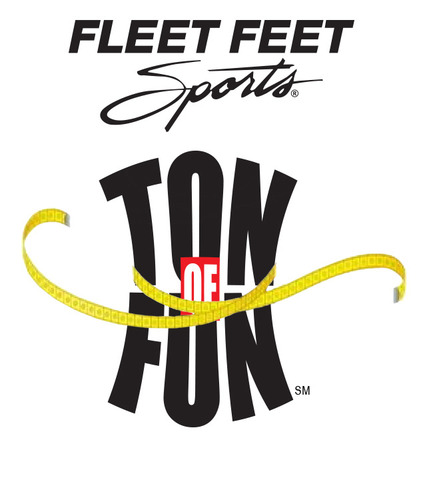 This winter, we're challenging Seattle to lose a ton of weight.
Literally.

The fun starts at Fleet Feet Sports on February 1st. We will celebrate everyone's accomplishments and crown the overall weight loss champions at an awards celebration on April 26th.
---
You are invited to join us in a 12 week challenge to get residents of Greater Seattle to lose weight!
As a participant, you will work on your own to lose the weight, but we'll provide support along the way:

Weekly weigh-ins (you pick day & time)


Weekly eNewsletter

Closed group page on Facebook with unlimited access to our coaches

Thursday evening walks at 6:30 pm, starting & ending at the store

Fun ideas to get out and moving around Seattle

Injury prevention

Nutrition resources

Prize incentives along the way!
Cost: $50  *You will earn this back and MORE in prizes and incentives if you stick with the program!
Info Sessions: Learn more about the program during our Twitter Info Sessions. Follow #TonofFunSeattle: Sunday, January 19 at 9 am & Thursday, January 23 at 7:00 - 7:30 pm

---
How to earn your $50 back:

Receive a $25 Gift Certificate to Fleet Feet Sports once you complete 8 weekly weigh-ins AND lose 2% of your body weight. (eg, a 200lb person has to lose 4lbs)


Receive a $25 Gift Certificate to Fleet Feet Sports if you lose at least 5% of your body weight by April 26th. (eg, a 200lb person has to lose 10lbs)
PLUS... receive prizes when you reach one of our "Race Clubs"
5K Club (3.1lbs in weight loss)

10K Club (6.2lbs in weight loss)


Half Marathon Club (13.1lbs in weight loss)

Marathon Club (26.2lbs in weight loss)
---
Washington Challenge

To make things even more interesting, we've set up a friendly competition amongst the four Washington Fleet Feet stores: Bonney Lake, Seattle, Spokane, and Tacoma. Register via your store's website. At the end of the challenge, we will award bragging rights to the team that loses the highest percentage of weight.

---
Are You Ready To Commit?
Sign up online. Once you register, you'll start receive our welcome email with more information, including how to sign on to our closed to Facebook group page.

Then, mark your calendars for Saturday, February 1st from 2 - 5 pm for our kick-off. Come prepared to have your first official weigh-in! (Don't worry... all weigh-ins will be done privately in one of our dressing rooms... and your actual weight will NEVER be revealed to others)  AND, if you can't make it to the kick-off, that's okay!  Just come anytime during the first week.

---
Register online.

Registration closes on  February 15, 2014
---
PARTNERS
We are very excited to be partnering with:
Kyle Davis, Spiral of Life, Personal Trainer
Nicole Seana, Swedish Medical Center, Registered Dietician