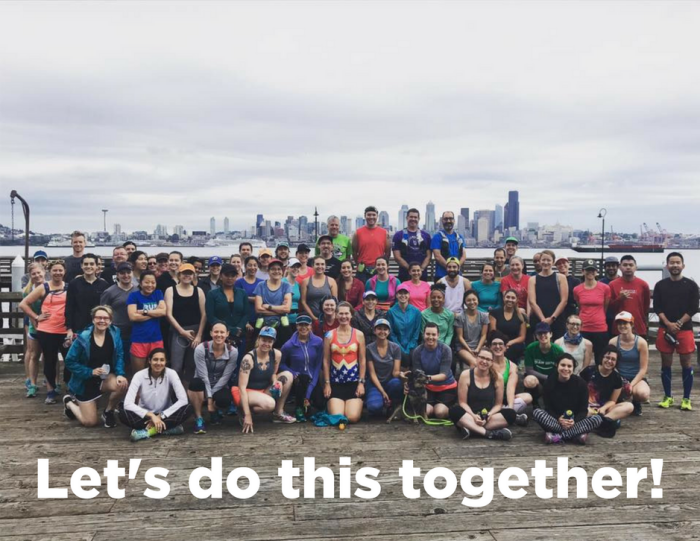 Whether this is your first time attempting a half or full marathon or you're a veteran of long distance running, let us help you cross the finish line. Our 14-week Fall Distance training program is designed to help you confidently reach your goals! With motivating program mentors and a great coaching staff, Fleet Feet Seattle & Ballard is ready to lead you in your training.
This program is timed to culminate at the Seattle Half & Full Marathon
We are also excited to have Amy Craft return as our coach. Meet Coach Amy!
Join us and enjoy all the benefits of training with a group!
Program Details
* Program Dates: August 24 - November 27, 2022
* Professionally designed 14-week training program excellent for both first-timers or experienced runners
* Half marathon program is for runners who are currently comfortable running 4 miles, Full marathon program for runners who are comfortable running 7 miles
* Two weekly group practices on Wednesday evenings at 6:00 pm and Saturday mornings at 8:00 am
* There will be two choices for Wednesday workouts. One option will be in the Capitol Hill neighborhood and the other option will be in the Ballard neighborhood. Workouts including hill repeats, track workouts, tempo runs, and more.
* There will be one practice option for our Saturday long runs. Long runs will be in your small pace group with mentors. These will move around town to mix up our routes. The furthest North that we will run is Ballard and the furthest South that we will run is Seward Park. You will receive a full calendar with meetup locations at the start of the program
* You'll be part of a mentor pace group who will connect with you via email or text
* Virtual educational clinics and in-person injury screenings
* Comprehensive weekly email with group announcements, workout and route details, training tips, and weekly motivation
Key Dates
* Live Chat Info Session: Wednesday, August 3, 7:00 pm via Instagram Chat
* Virtual Program Kick-Off: Wednesday, August 17, 6 - 7:00 pm via Zoom
* Gear Up Weekends:
- August 13 & 14
- August 20 & 21
- August 27 & 28
* First Group Practice: Wednesday, August 24
Program Perks
* 10% off regularly priced personal in-store purchases throughout training program
* Gear Up Weekends: 20% off regularly priced personal in-store purchases on August 13, 14, 20, 21, 27 & 28
* Virtual education clinics
* A Brooks long sleeve program t-shirt
Earn $25 for Program Referrals
* Receive $25 Fleet Feet bucks for every new person that joins our program. How it works: you need to be registered for the program and the new participant needs to list your name in the referral section of the registration page.
Pricing Options for Spring Distance Program
* Half Marathon: $125 (plus taxes & fees)
* Full Marathon: $150 (plus taxes & fees)
If you have any questions about the training program, please don't hesitate to contact us.

Program Partners

Fall Distance Training
Program Start: August 24, 2022
Program Schedule: Wednesdays at 6:00 pm & Saturdays at 8:00 am
Program Fee: $125 for Half, $150 for Full
Description: Whether this is your first half or full or your 31st, we're excited to have you join our group training program!