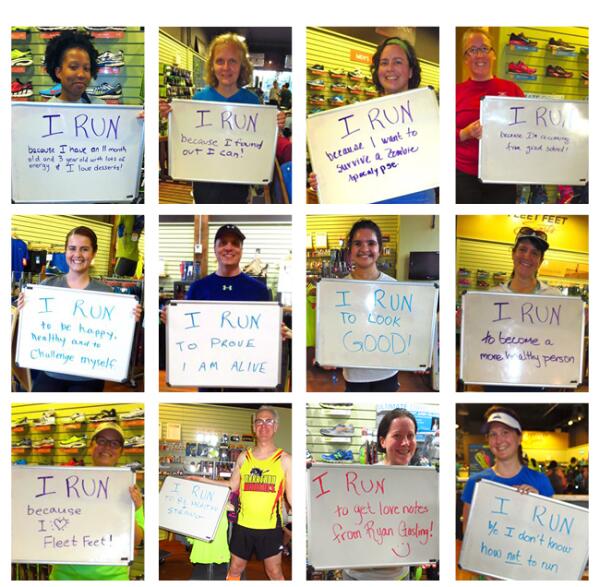 At Fleet Feet Seattle, we are all about helping you achieve your fitness goals.  Day in and day out, we are fitting shoes and equipping runners and walkers with the necessary equipment to exercise comfortably.  That's a large part of helping our customers toward their goals, but we also offer more in-depth training programs.  These programs give you expert coaching and the camaraderie of a group all working toward a similar goal.
Whether you are a complete BEGINNER and are literally going from the comfort of your couch to a 5k or if you want to finish your first full marathon, our programs throughout the year help you accomplish these challenging and yet, very achievable goals!
Upcoming Programs:
- Distance Training Program: March - June 2015
- No Boundaries 2.0: Run a Stronger 5k: April - June 2015
- Speed Sessions: April - May 2015
- Lil' Laces: July - August 2015 
- No Boundaries Couch to 5k: August - October 2015
- Beyond No Boundaries Beginner 10k: August - October 2015 
Let us know if you want to be contacted once registration opens up for future programs.

From our Alumni:

I didn't know a single person there. I was totally out of my element. I didn't have all the cool running gear. I wasn't sure what to wear. I was one of the oldest people there. I was one of the slowest people there. I was one of the heaviest people there. I was one of the few that had never run a 1/2 marathon before. I didn't know what the heck I was doing. I was scared and intimidated. All I know is that joining this group was one of the best decisions I've ever made. Not only did I learn so much from the coaches and mentors, I made some great friends with whom I continue to share running and life adventures. I couldn't imagine my life without these wonderful folks and hope they know how much they mean to me. - Wendy

I participated in the No Boundaries program last summer. At 43 I had never run more than a mile in my life and had no idea how to get started.  It was great to learn about different aspects of running from experienced coaches. Throughout the program the group comfortably progressed from walking to running. I really enjoyed the structure of running with a group and following a schedule. I had so much fun with No Boundaries that I decided to join the Half Marathon training group. In November I ran a half marathon, slowly, but I finished! - Amy
Signing up was one of the best things I did, and I will for sure be signing up for the fall program. Keep in mind that I don't exactly live around the corner from the store - I rode a ferry two days a week just to come run with the group.  A ferry!  And I would and will do it again.  You guys rock - great job! - Karen
One year ago I was sitting at Whole Foods watching the Rock 'n' Roll Marathon participants limp home with looks of complete agony on there faces. I said I'll never do that! One year later I ran a full and was smiling at the finish. I honestly would never had attempted this, let alone succeed without the help of Fleet Feet. - Heather 
Being part of a running group makes training easier and more fun that training by myself! - Maria
I just really, really enjoyed the program and am grateful for the Fleet Feet store. You showed me that I could actually be "a runner" and that my body is stronger than I ever imagined. - Cathy
I love the training programs. Meeting new people and seeing new areas of town is fun. The knowledge that each staff member has is amazing. We could ask anything related to running and they would get us an answer. - Jennifer