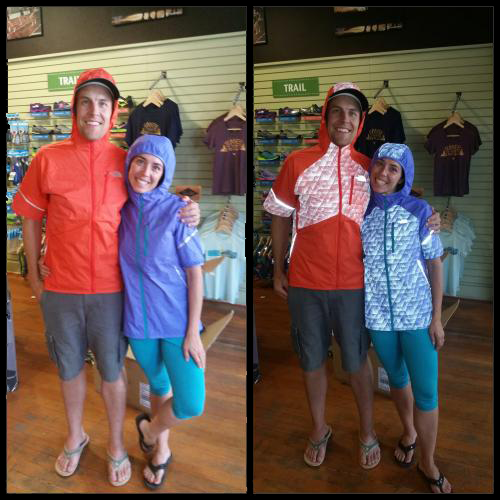 By: Andrea
Check out The North Face's brand new short sleeve jacket. Yes, short sleeve. There's nothing else like this out there. I was in the back office when they arrived and could hear Brian excitedly talk about how this was "the ultimate in functionality."
Sometimes it rains, and it rains hard. If you have a water resistant jacket, you'll still get wet, but the hope is that you dry quickly. With a waterproof jacket, you're almost certainly going to overheat. That's where this comes in. The short sleeves provides great ventilation to keep you from overheating, while keeping your head, shoulders, and core perfectly dry. This design lets you play with layering and arm sleeves to find your own perfect balance of protection from the elements and prefered body temperature. Additionally, it packs into almost nothing and is highly reflective on the front, back, and hood. The reflectivity in the photo above is pretty undeniably awesome.
What we love most about this jacket is how it came about. Mike Foote, one of The North Face's endurance runners, was required to have a waterproof jacket with him to run the Ultra Tour de Mont Blanc. Wanting it to be functional while still meeting the requirements, he quite simply cut off the sleeves of one of his waterproof jackets.  This running hack (figuratively and literally) led to the creation of this piece.