NEXT SESSION: Tuesday, January 20
At Fleet Feet Sports, we want to insure that you meet your fitness goals without pesky pains and injuries standing in your way!
Dr. Kaylie Higgins from Kinetic Sports Rehab will be joining us on January 20 to offer free five minute Kinesio taping appointments. Whether you're coming to our Tuesday night run, No Boundaries practice, or just interested in seeing if taping can help an injury, sign up below for a free five minute appointment and taping.
"RockTape is a form of kinesiology tape, very different from a true athletic tape. The tape has a built in elasticity, that when applied correctly, helps to pull the skin away from the underlying soft tissue. This increases blood flow and lymphatic drainage in the area, resulting in an ability to IMPROVE FORM and WARD OFF FATIGUE. The continual force that is applied to the body with each foot strike, makes runners ideal candidates for benefiting from RockTape. Simply put: when runners fatigue, form is lost. When runners lose form, they compensate. Continual compensation= increased chance for injury. Enter, RockTape.
RockTape is useful for, but not limited to, the following conditions:
ITB Syndrome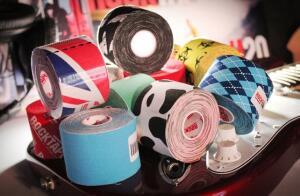 Jumper's Knee (PFS)
Groin and Hamstring Strains
Plantar Fasciitis
Postural Corrections
Low Back Pain
Achilles Tendonitis
Shin Splints
Shoulder Impingement
Rotator Cuff
Carpal Tunnel
Tennis and Golf elbow
Last but not least, RockTape is available in an amazing array of colors- sure to match any outfit you throw at it, all while making your friends jealous!"
-Dr. Kaylie Higgins, DC
Kinetic Sports Rehab
Appointments will be taken on a first come basis and an email confirmation will be sent to you prior to the session.