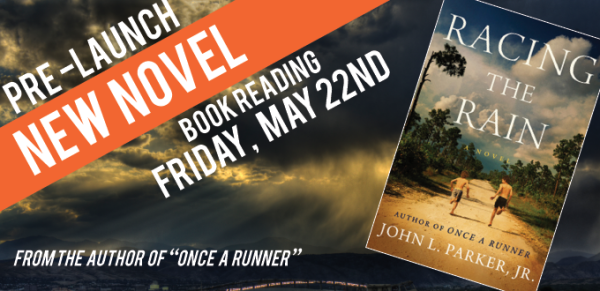 We're excited to welcome John L. Parker, Jr. to our latest installment of RunTalks!
May 22nd / 7:00pm 
RSVP Below 
Author of Once a Runner, John L. Parker Jr., will be joining us to read an excerpt from his newest novel Racing the Rain. This prequel to the New York Times bestseller Once a Runner vividly captures how a runner is formed, and the endurance, determination, and mindset he must develop to become a champion. Racing the Rain is an epic coming-of-age classic about the environments and friendships that shape us all. Racing the Rain will be released in July. Following the reading, Parker will do a short talk, Q&A, and sign your copies of Once a Runner.
"For a young man or woman, the twenty-first century onslaught against purity and potential offers very few havens, but John L. Parker, Jr.'s lovely novel, Racing the Rain, reminds us that within amateur sports, especially a good foot race, all of us, athletes and spectators alike, might find what is most valuable in any life—the spirit to accomplish impossible things."
—Bob Shacochis, National Book Award winner and author of The Woman Who Lost Her Soul
"Racing the Rain is a clear explanation of the beauty of our simple sport, and why that beauty is so priceless, and why becoming an athlete, and in particular a runner, and in particular a racer is so special. Racing the Rain is about friendship and struggle and the fun of being a kid who is feeling his way through life. Truly, every runner will say 'I know what you mean, John' when they read this book!"
—Bill Rodgers, four-time winner of the Boston Marathon 
RSVP Below to Save Your Spot!