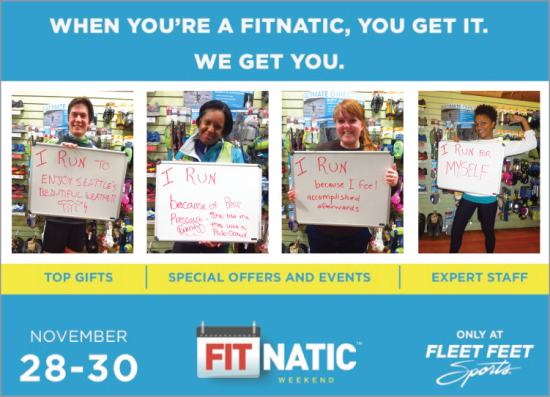 Do you often find yourself:
· purchasing yet another pair of running shoes
· regaling friends and family with stories of your training adventures
· participating in a pre-race ritual, or
· shaking your head, as you are the family member or friend of someone that fits the description above?
If so, you just might be a Fitnatic, or someone who loves one!
We are honoring both camps with a special weekend designed for all! Join us on November 28th-30th and take advantage of these great deals and events!
STORE EVENTS & DEALS:
* 5 Mile Urban Trail Run, Friday @ 8:30 am
* Oiselle Pop-Up Shop at the store, the largest selection of Oiselle apparel in town!
* Limited Edition "We Run This Hilly Town" Tech Tees
* $50 gift certificate for every $150 spent, all weekend
* Man Packs: Saxx Underwear, Epic Bars, & Maple Bacon Vfuel in a burlap sack
* Buy 3 Pairs Balega Socks, Get 1 Pair Free
* Buy 2 Addaday rollers, get a marble roller free
* 30% off GU nutrition
* Garmin Forerunner 10 GPS Watch for $100
* Adidas Boost Bundle: Glide 6 and Adios 1 for $200 (while supplies last)
* 25% off Training Program Registrations, Friday - Sunday (promo code for all programs except Full Marathon: FITNATIC; promo code for Full Marathon: FITNATICFULL)
* Blowout prices on Summer Apparel and Previous Shoe Models
SEATTLE MARATHON EXPO DEALS:
* $80 Mizuno Rider 17s & Inspire 10s
* 20% off Mizuno apparel & Accessories
* Buy 3 Pairs Balega Socks, Get 1 Pair Free
* Buy 2 Addaday rollers, get a marble roller free
* Free calf massages to anyone
* Limited Edition "We Run This Hilly Town" Tech Tees