Saturday, August 17 | 10 - 1:00 pm
Early detection and treatment of osteoporosis can have a significant impact on a person's quality of life and level of activity as they age into their senior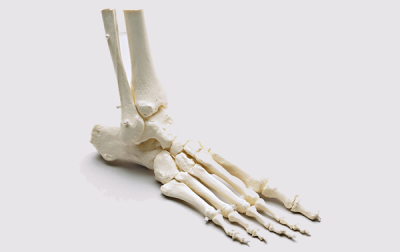 years. A bone densitometry scan is a painless test that accurately measures bone density and can be a useful tool in preventing and treating osteoporosis and potential fractures. Any runner or walker can benefit from this scan and become more knowledge about preventing future injury.
Dr. Mary Klimek from Lake Union Wellness will be at the store on August 17 to perform free bone densitometry scans to anyone who is interested.  No appointment is necessary.
What is osteoporosis?
Both women and men begin losing bone mass at around age thirty-five, as a natural part of the aging process. Bone loss escalates for women after menopause due to declining levels of estrogen. This puts women at special risk for developing osteoporosis, which is a skeletal disorder characterized by thin, weakened bones that are easily fractured.  It's crucial to raise awareness about the importance of regular screening, early detection, and treatment of osteoporosis.
What is the screening test like?
This screening test takes about a minute. The patient simply removes a shoe and places his/her heel into a footrest. The scan measures the ultrasound properties of the calcaneus, which is a load-bearing bone.
How do I get my results?
A written report is generated and given directly to the patient. Similar to a DEXA scan report, the portable unit indicates: a T score, which is the standard deviation away from peak bone-mineral density; and a Z score, which is the standard deviation above or below the mean for age-matched controls. These T scores are comparable to spine or hip bone mineral density.
What should I do with the report?
Dr. Mary Klimek of Lake Union Wellness will be on site and will be able to discuss the results and to see if follow-up is necessary. If the results indicate signs of bone thinning or osteoporosis, additional studies, like a lumbar and hip DEXA scan, may be recommended to obtain more detailed information.
When should I have my first bone scan?
As soon as possible!  Since this is a non-invasive technique, it's always great to get a baseline at any age.  It's a lot easier to PREVENT osteoporosis/fracture than it is to REVERSE it!  At the very least, regular scanning should begin around the time of menopause unless existing medical problems might lead to early bone loss, putting you at increased risk for osteoporosis.
What about follow-up?
If you have normal bone density, follow-up DEXA scanning is recommended every three to five years. However, if you are being treated for osteoporosis, a DEXA scan maybe necessary every one to two years. The scan precisely captures small changes in bone mass, which can help you and your doctor follow the progress of the treatment.
What other new imaging technology is available locally for bone health?
People are living longer these days, which makes bone health more important than ever.