Redeeming Soles organizes a footwear collection and distribution center for the benefit of local organizations. It is their vision to be able to make gently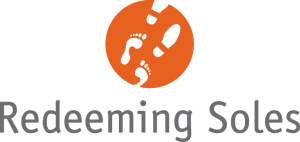 used shoes and socks, as well as new shoes for employment, available to those in need. The organization also seeks to provide proper medical treatment for feet as well as other foot care services. 
You are invited to drop off your gently used shoes at Fleet Feet Seattle. 
If you share an interest in caring for the soles of many needy individuals in the Seattle area and would like to further help bring their vision into reality, please contact Redeeming Soles.