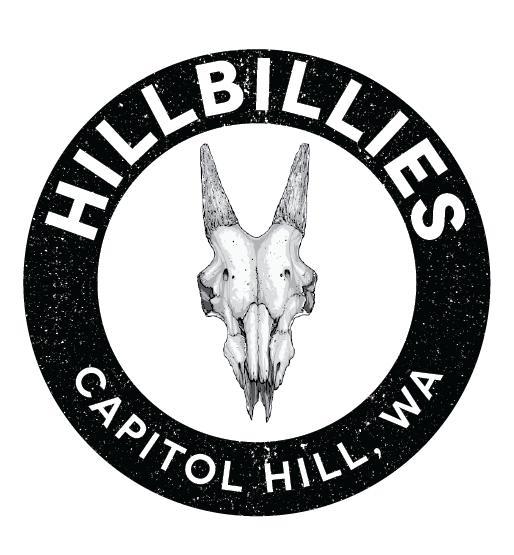 Meet the Hillbillies!
Amanda Duke
I was very nonathletic as a child growing up in Memphis, Tennessee. I started running during college to combat my Freshmen 35 (ahem). I began walking/jogging every other city block, and the pounds melted off me and stayed off. I discovered hiking, distance running and trail running (in that order) after moving to Seattle in 2002, running my first half in 2006, my first full in 2008, and my first trail race in 2012. As of now, I've run five fulls, 35 halfs and eight trail runs (25-35k). With trail running, you get all the mental and physical benefits of road running, minus the body-pounding asphalt, plus the sight-seeing aspect of hiking - and you go farther and see more. I live in Capitol Hill and found the Fleet Feet Seattle store by word of mouth. I signed up for the summer 2012 full marathon training, have since mentored three fulls, one half and a couple 5k/10k programs, and I thank my lucky stars that I did!
Drew Neddo
I've worked at Fleet Feet Seattle since October of 2013 and recently took on the role of Training Program Director; I couldn't be happier to be a part of Fleet Feet. I've been running, or alternating between running and hiking, trails since 2009, and I'm really excited to do it as part of this awesome team! Recently my wife Samantha told me about someone who was reading a book about each U.S. President, so of course I decided this would be a good idea for me to do as well...so far I've read one about George Washington. Only 43 to go.
Emily Perchlik
I define myself as an architect and a runner. I've know I wanted to be an architect since I was 12 and have been an active runner since the age of 13. I ran with a club team in college and the Austin Runner's Club while in Texas. I worked at Fleet Feet for two and half years, coaching the training programs for two of those years. I finished architecture grad school in December of 2013 with a thesis on running infrastructure and architecture. As individual a sport as running can be, the social network of runners has always been an important and inspiring part of my running experience. I've always enjoyed sharing stories, fitness articles, and training insights with my fellow runners. The trail running community in the Pac Northwest is super strong and super fun, camping and conquering mountains together.
Heidi Flora
I've been running for 25 years, through college, career and kids. I joined Fleet Feet 4 years ago to get motivated to run a local marathon, and have stayed involved in their wonderful coaching program ever since. They have continued to provide running inspiration and support, not to mention a fabulous group of friends, my running "family"! Trail running is something I've become more and more involved in the past few years. I love running trails! To me it is the perfect combination of running and being out in nature, with a healthy dose of adventure thrown in. My biggest accomplishment in trail running so far has been a 50K I completed this past winter, and I look forward to doing two more next year, one in Washington and one in Iceland. When not spending time with my family or running I love painting, printing, photography - anything in the arts. I went to art school as a graduate student and love to stay involved any way I can. A little known fact about me is that while I am happy to take on just about any trail running challenge, I am hopelessly unable to conquer my fear of singing karaoke!
Ian Preppernau
Running is something that I have enjoyed my entire life.  It is a great way to meet awesome people, stay in shape, and see the world.  After years of running lots of different distances and trying lots of store runs I found Fleet Feet and started running with the group runs; which led into getting involved in the training programs.  Fleet Feet and the running community showed me trail running is a very enjoyable activity, and I have been trying to get out to the trails as much as possible.  Trails add a level of difficulty and beauty that road running just cannot compete with.
Jaime Clark
I'm excited to be on team Hillbilly! As a born and bred Missourian, I believe I have a lot of grit to offer. For me running on the trail always presents new and exciting challenges. I've learned a lot, including how NOT to lose your car key on a 20 mile run in the woods. The Issy Alps is my usual training stomping ground, I love finding my way on all the different trails. As a Fleet Feet Seattle Staff member, I'm excited about all the new trail products we're going to bring in. In order for me to run on the trails safely, good gear is important!
Favorite run lately: Love Kendall Katwalk on the PCT. Great views!
Most hurt on a run: Ran Mailbox peak to Teneriffe to Si to Little Si. OUCH 
Kaylee Venosky
I was born and raised in Goshen, Indiana where I ran cross country during middle and high school. And also where I vowed I'd never run competitively again. That is both a story for a different day, and clearly not how my life ended up. I took up the "runner" mantle again in the spring of 2013 with the help of Fleet Feet's half marathon training program, and I haven't really left the store since. Now, instead of being just a student, I'm a mentor as well--and it's my favorite labor of love because I absolutely love spending time with the Fleet Feet community. And that community is a HUGE part of why I have started setting my sights on trail races. There are so many wonderful runners who tell so many wonderful stories that it's hard to avoid the lure of the trails. I still definitely have one foot in the road racing world, but I'm really excited about the sense of wonder that trail running brings me--DO YOU KNOW HOW MANY KINDS OF BIRDS AND PLANTS THERE ARE? (Trust me, it's a very different game than "how many Honda Civics will I see today?") And if you're still with me, you deserve a little known fact: I'm a former Collegiate National Sprint Kayak Champion (in the 200m, 500m, and 5000m, if you must know).
Marlis DeJongh
Trail running has been a highlight in my life for over 20 years.  There were only two women signed up for my first ultra 20 years ago.  It has been great fun to watch the sport evolve, especially the number of female runners. I've been hanging out at Fleet Feet, formerly Seattle Running Company, throughout that span of time.  The store has been such a great hub for the trail running community.
Michael Fu
My connection to Fleet Feet Seattle started 6 months into my running career in 2012 when I joined the full marathon training program as a student.  Through this I've made wonderful friends who go out for pints after weekday casual runs, travel to marathons in other cities, and nowadays travel to mountains everywhere to run trail races. Trail racing for me is the most fun and interesting running challenge.  Nowadays you can stick to marathons and be fast working towards Boston.  You can also be a triathlete and work towards that ultimate goal of a full Ironman.  For me the focus is trail running to see if I can make it to Western States. A little known fact about me is that I've been incredibly lucky in my work career having spent my entire career working on Xbox.  I've worked on Xbox, Xbox 360, and helped launch Xbox One.  My Xbox family is competitive, compassionate, and fun loving just like the friends I've made through Fleet Feet!
Michele Kastle
I started trail running three years ago when I moved with my family to North Vancouver, BC. The Baden-Powell Trail was just beyond our backyard. My youngest (of four) started kindergarten, and I was looking for something to keep me busy. I found a great community of friends and more than enough tough technical trails to keep me occupied. Moving back to Seattle was bittersweet. I didn't realize how spoiled I was in Canada, not having to drive to the mountains. I'm relatively new to trail running but one thing I really love is that it is one of the few sports where men and women are equals. If we run together don't follow too closely behind me; I run into trees, bushes, logs, etc. all the time, and I'm always falling. Little-known facts about me: (1) I am a pastry chef and (2) I can tell how many fingers you are holding up behind your back.
Natalie Thompson
My introduction to running came at around age 12 when I happily beat both my dad and sister back to our house in a little 2-mile run around our neighborhood.  Since then, my love for running has grown and transformed.  In 2010 I moved to Seattle and immediately started working at Fleet Feet.  Through the great friends and co-workers I've had there I learned the beauty and excitement of trail running.  In early 2014 I decided to head for the hills and now live in the lovely mountain town of Leavenworth, where there is seemingly no end to the magnificent and challenging trail opportunities. I love the trails because it's a way for me to escape, explore, get frightfully scared, and feel wholly accomplished, alive, and exhausted all at once!
Pablo Trejo
I started going to the Fleet Feet store runs in January of 2012 as part of a new year's resolution. Around that time a lot of long time friends moved out of Seattle, so I made a resolution to meet more people. Since running is one of the things I love most in life, I figured that meeting more runners would be a good idea. I was right. Over the course of the last two+ years I've met many wonderful people at the store and I've made friendships that have changed my life. I have always liked spending time in the woods, but I never had the motivation to go out by myself on long runs on the mountains. After being inspired by all the new Fleet Feet friends, I started getting more serious about trail running and fell in love with running all over again. There's nothing like standing at the summit of a mountain and knowing you got there on your own two feet. One little known fact about me, is that very few people really know about my past (and kind of present) nerd life. If you are curious, ask next time you see me.