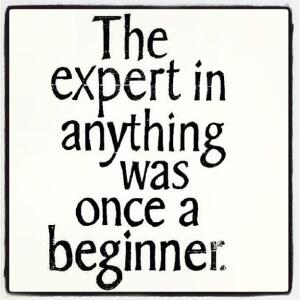 As we start another couch to 5K "No Boundaries" program, I am humbled by the number of people who place their health transformation into our hands. I acknowledge that it is very difficult…very difficult to lean on another human and admit that they are scared to take the first step of the journey. I wanted to take a moment and recognize the courage that our newest runners show when they agree to take that first walk with us. I want them to remember that…..
The Expert In Anything Was Once A Beginner.
We often hear the words, "but I'm not a runner." And our answer is always, "that's okay!"
Hey, if you already knew how to run, would you really need us to coach you?
Probably not.
What matters is that you show up each week. When you commit to that, you can't help but become a runner. That's the way the No Boundaries program works.
Here's a little story; we have a beautiful woman named Lois, who began running with us in our very first No Boundaries program. Although she was "not a runner" and was more than happy to announce that each and every time she showed up, she showed up. And each week, as we increased our running intervals and decreased our walking intervals, it became harder and harder for her to say that she wasn't a runner. Her effort and commitment made her a runner!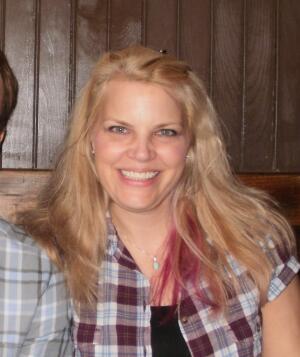 Lois signed up for the next No Boundaries program, which came as a surprise.... to no one. Each week, she would tell us that she "almost didn't come." But there she was, week after week, committing to the group and finally admitting that she liked our social time together. The coaches got together and decided to make a bigger effort to recognize the runner that she had become. I personally asked her to change her perspective and to use positive talk with herself. I thought she needed to embrace the reality that she was a runner, that she was getting better and better and that heck, she LIKED it.  She completed her first 5K this time around because in the original No Boundaries program, she had a schedule conflict. It was such a difficult race course and it was a crazy windy day but Lois and the group posted their best 5K time ever.  I have to admit, each time our runners cross the finish line, I have to turn away so that they don't see me losing it. I'm so proud of everyone who takes the journey with us. I'm so grateful for their trust.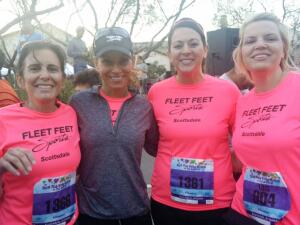 This week we are starting a new couch to 5k program and I want to personally invite you to begin with me, with us. I don't need you to be an expert, I need you to be curious enough to commit. I need you to want to feel good again because I guarantee you, you will. I want to reassure you that you will feel safe and accepted and that we will take very good care of you. You won't ever be "holding anyone back" and you won't ever "cross the finish line last," because we are right beside you. There's a reason that we go slowly…you have to walk before we let you fly…so I promise you that we will go very slowly.
If that sounds like a group that you'd like to be a part of, please click below to register for free or just email me at Linda@FleetFeetScottsdale.com and I'll coach you through the registration.
 I'm really looking forward to seeing you!
Be Well!
Linda and the Fleet Feet Scottsdale Team
http://www.fleetfeetscottsdale.com/training/no-boundaries-beginner-walk-run