Reasons to Try Trail Running
If you live in the Phoenix Valley than you probably know how lucky we are to have access to tons of trails in our metropolitan area. And with all the sunshine we are also lucky enough to have, we're able to enjoy those trails year round. If you haven't tried your hand at trail running, here are a few reasons to get out there and give it a shot!
               One of the best reasons for exploring the trails is that it offers a mental break; something I think many of us are in desperate need of. Choose your trail wisely and, besides a few mountain bikers and possibly other runners, it's just you and beautiful single track.  It's a great active way to enjoy a little alone time, clear your head, or de-stress.  While out running on technical trails, you're also forced to focus your attention on your footing and surroundings and thus distract your mind from that looming to-do list or busy job.  Challenging terrain forces you to slow down your pace, which can be a nice break from stressful training and strict workouts. Running trails is a reminder to run simply for the love of running! Just being in nature has numerous benefits for our mental health as well. In an article published by the New York Department of Environmental Conservation, spending time in forests has been shown to boost immune systems, lower blood pressure, reduce stress, improve one's mood and ability to focus, increase energy levels, and improve sleep.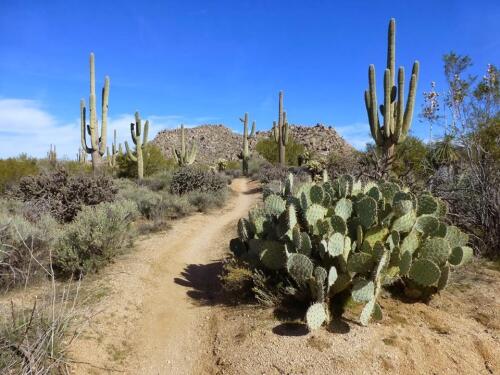 Hitting the trails is also a break from noisy traffic and the pollution that comes with it. Getting out on some of the more remote trails in the surrounding areas of Phoenix leaves you feeling like you can breathe easy! And while we may not get any break from the heat by hitting the trails in the Valley, head up to Flagstaff and you can enjoy cool, shady, trails with fresh mountain air. A day of trail running up there in the summer, and trust me, you may never want to come back! Flagstaff has a great system of urban trails that take off right from the middle of the Historic District; more information can be found by visiting their website.  The lure of cool trails can be a great way to check out parts of our state that you may never have before. Try searching for some trails in Payson, Prescott, Pine, and Sedona for gorgeous scenery and cooler weather.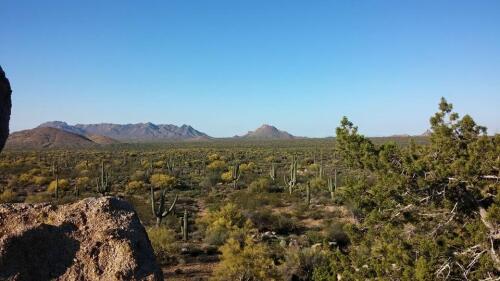 Softer surfaces offer a nice break for your body from concrete.  A great pair of running shoes makes a big difference when you're hitting the pavement, but all that pounding on hard surfaces can really take its toll on your feet and joints. It can also lead to overuse injuries - even with proper footwear. In addition to less impact, softer surfaces also mean challenging more muscles that you may not be activating when you're running on the road. Ever run in sand before? It's a similar concept. That little extra resistance that soft gravely paths provide can help strengthen your legs. Stronger legs mean more efficient running, which in turn helps prevent injury so we can keep running and doing our thing!
               While trail running is a great way to enjoy a little solitude, it can also be a great way to connect with other runners! As it becomes more and more popular, trail running groups are popping up all over the place. Most are free, and you can learn from trail experienced runners. Once again, it may encourage you to check out some new areas that you've never visited, some may even be in your own back yard!
              Need a little inspiration? Check out Rails to Trails Conservancy's website here, download an app for your mobile (I especially like All Trails), or check out your local running specialty store for any trail runs they do!
Experience trail running with us the first Sunday of every month! Click the link below to register!
https://www.facebook.com/events/302555943201722/