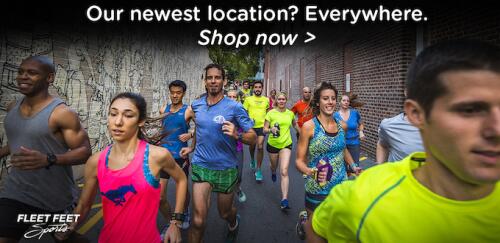 Hi Friends!
I have exciting news to share about my Fleet Feet store! It just got really, really big and so much more convenient….and I didn't have to add a square inch of physical space to my existing store! No, it's not magic and it's not adding another physical location but it is increasing my space in cyberspace. Yup, we are now providing shoes online!
"But, wait!" I can hear you saying, "What about SHOP LOCAL??"  I want to reassure you that you are still shopping local when you shop online with us. A portion of every sale stays right here with your local Fleet Feet Team. The other portion stays local with the Fleet Feet team that fulfills the order. And of course, a wee bit goes to the government because there's taxes and yadda yadda…simply no way around that one!
So your next question might be "Why did you decide to do this, Linda? Didn't you want to be a local shop owner?" I'll explain my thinking…
Expanded inventory!
Let's say you come into the store and we give you our FIVE STAR ONE HUNDRED PERCENT GUARANTEED CUSTOMER SERVICE but we come to the end of the fit process and you've fallen in love with a pair of shoes that I only carry in a shade of blue that represents your rival team. Instead of having to settle for rooting for your rival or picking a shoe that's not your first love, we can hop online and see what other colors are available! A few clicks and then the perfect shoes in the perfect shade of Arizona Cardinal Red will be delivered to your door in a few short days. And if you get those wonderful shoes and find out that they weren't really what you had hoped for, you can bring them right back to me.
The other cool thing is that I am really limited to the items I can carry. My store is only so big…you've seen it! But the other stores out there increase my stock room by like a whole football field! The online "store" has brands that I didn't get into yet because I'm a new store. More cool stuff means more cool stuff for you!
Remember that we are always here for you….except when we are sleeping! Luckily the website NEVER sleeps! Go! Click the blue banner at the top of the page! Have Fun!
In Health, 
Linda