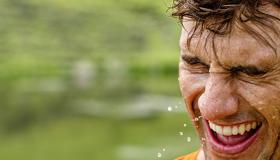 117 degrees? How are we supposed to handle that kind of heat and still keep up our mileage? We could retreat indoors to get our miles in utilizing a treadmill, obviously. Our morning run group had a long run scheduled this morning and decided to get out before the sun came up so that some of their miles would be less taxing. As for me, I decided to concentrate on swimming until the temps come down to a more reasonable range, like 110. (Insert eye roll here)
I think we worry that if we don't get our miles in, our performance and pace will suffer. It's not exactly a scientific study but I often switch to swimming this time of year, and my running performance doesn't seem to be affected much at all. But you also won't see my name among the qualifiers for Boston, so maybe when you're an elite runner, every little thing matters. And I personally don't enjoy running on a treadmill. One of the reasons that I run outdoors is the beautiful scenery in Arizona. Treadmills just make me feel like a hamster on a wheel.
An interesting thing happened through this week, while we were running in the heat. I thought most of our running groups would be empty but they weren't. We took precautions and people still ran. Even in the beginner run group, we have a few that are training for a half marathon, and they still ran. In fact, Monique, who is doing a half marathon in the fall, stepped up her game in the heat. She increased her distance and refused two breaks that she would normally take. Typically we run four minutes and then walk one minute but she ran straight through for ten minutes on two of the intervals. Monique really rose to the challenge and decided that she wasn't going to let a little-or a lot of sweat stop her.
Daylight has been arriving later each day so we know there's an end in sight; even if it's a good two months away. In the meantime, run early or run late, and hydrate. Take it indoors or switch it up with swimming or a bike ride. Whether good weather or bad, nothing lasts forever!
Happy Training!
-Linda