Bring your heart this way for a Valentine's Day relay!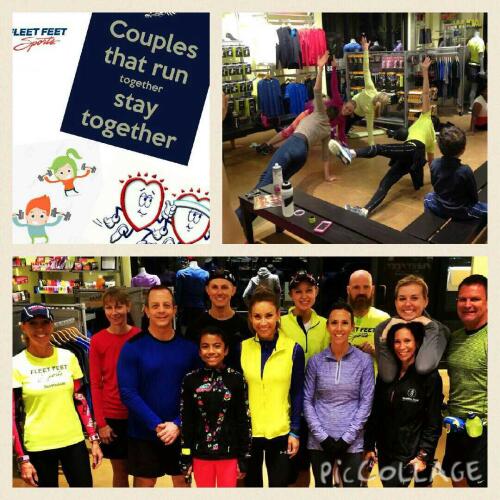 Come celebrate the people you love, support the American Heart Association, all while getting in your workout!  This Valentine's Day Fleet Feet Scottsdale has partnered with the American Heart Association to offer a couples/partners relay event.  We will be running, sprinting and strength training all in the course of a super fun relay and best of all you get to do it with someone significant in your life!  Prizes will be raffled off periodically throughout the event, all the proceeds will go to the American Heart Association.  In addition Fleet Feet Scottsdale will be donating 10% of it's sales from the day to the AHA.

What:
Valentine's Day Relay.  Teams will consist of two people each, one person will complete an endurance leg (2 mile run) and the other will complete a sprint leg (40 air squats, 30 jumping jackets, 20 push-ups, 10 dips, 25m sprint).      
When:
February 14, 2015; 9am
Where:
Fleet Feet Sports Scottsdale (18261 N. Pima Rd. Scottsdale, AZ 85255)
Who:
Romantic couples, just friends, family members, or any two people who'd like to participate together.  Or if you're feeling like a hardcore athlete?  Feel free to participate as a solo competitor!  You will need to complete both the endurance and sprint legs by yourself.
Raffle:
Each team will receive two raffle tickets with their entry.  Additional raffle tickets will be available for purchase! ($1 per ticket or $4 for 5 tickets). The money from the raffle all goes to the AHA!
Prizes:
Two 1 hour massages (donated by Twisted Tree Healthcare), $100 gift card to Flemings Prime Steakhouse & Wine Bar, Hydrafacial and men's shave (donated by the Manor and Paradise Medspa), Runner's Nutrition Package (donated by Fleet Feet Scottsdale), 1 month free membership at SICFIT Scottsdale!
Cost:
Free!
We'd like to thank our partners for this event, none of this would be possible without them!

American Heart Association
- Thank you for all you do!

SICFIT Scottsdale
 - Thank you for your partnership!

Twisted Tree Healthcare
- Thank you for donating your time and massage skills!

Flemings Prime Steakhouse & Wine Bar
- Thank you for your generous donation!