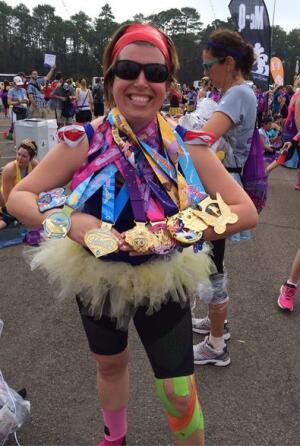 Hi Everyone, 
I have been with the Fleet Feet Scottsdale team for over a year and am happy to take on the role of Community Outreach Coordinator which allows me to help spread the word about the best kept secret in the Scottsdale/Phoenix area. 
As you can see by my photo, I have the running bug. I started running in 2007 to not only get healthier but to run a Full Marathon and not just any marathon but the Walt Disney World Marathon. Really if you are going to start running you should pick a good purpose to run for and I couldn't think of a better goal that to run through the Disney parks. If you are thinking that you must start with a small goal like a 5K or 10K, you don't! I didn't and I haven't looked back since. Fast forward to 2016 and I have not only accomplished my goal of running 26.2 miles but I have done over 36 Marathons both Fulls and Halfs along with a 100 mile relay and just signed up for my first 50K Ultra! While I don't have the sleek runner's body that many associate with running long distance; I am a size AWESOME! I believe that anyone can accomplish their goals with some training and determination.
Running isn't the only thing I enjoy I am also a HUGE nerd! I love movies, comic books, science and technology. Just this year I accomplished a different kind of marathon, I drove to Los Angeles and spent almost 24 hours watching every Star Wars movie leading up to the Force Awakens - it may have just been my favorite marathon.      
Thanks for reading .. I look forward to meeting you at either a event or in the store!