My personal greatest "moment" though was the Saturday group run of six miles. I was at a very slow pace and felt as though I might not be able to finish the run. A mentor named Robin stuck by me during the last half of the run, she talked and kept me focused and relaxed and kept me going. When we saw the group waiting for us (I was almost the last to finish) she encouraged me to "kick it up a notch". We both started going faster and something inside me allowed this burst of energy to shoot me forward and high five the others that finished before me. I was in awe that I did it! I was so grateful to Robin for sticking by my side, and after that moment something changed...

I'm ready for this 10k race more than I ever thought I would be. I ran that first six miles with Robin at about a 13 minute pace. Now I'm averaging an 11 minute pace. More importantly though was the "change". I'm not afraid anymore, I know I can do this and I know I can do it well, and I owe it in part to my own dedication to the program but the motivation to push myself further than I ever thought possible came from my coaches, my mentors, the directors of the program, and my fellow runners. Thank you everyone I am forever truly grateful but more importantly I am now, and will always be, a runner!
Ruth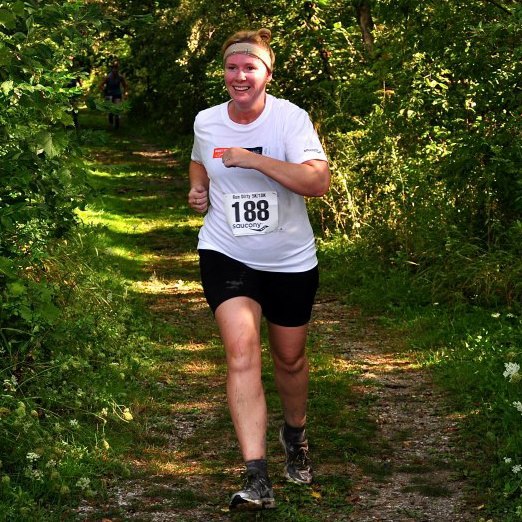 When I read the flyer for this program my first thought and question were why are you even considering this, you don't like to run. My second thought & question was do you really believe in yourself enough to commit to this and complete it? My answers were I don't know and no. I took the flyer home anyway. Part of me wanted to know why and believe. That started a process of self-examination I had been avoiding.
As I piled up the why not's justifying them with the usual excuses – I'm overweight, my weak ankle, bad knees – my heart kept telling me YOU NEED TO DO THIS.
With heart and mind in agreement, although the body was unwilling, I signed up.
First day I walked up that hill thinking oh well just blend in with the group and let's see how far you make it in the program. Thirteen days away from the 5k I am up to running four minutes, walking one, six times.
But the accomplishments go much deeper than distance.
Commitment.
Perseverance.
Order.
Completion.
My life has changed in those four areas the most since starting No Boundaries.
I had not committed to anything unfamiliar outside of church, family, and work after divorcing and remarrying. The pressure and stress of raising four children with a new husband took its toll on me physically, emotionally and mostly mentally. I understand now when people say they lost their zest for life. But joining this program has helped me write again, pursue getting a children's book I wrote published, and I am looking into organizations that help guide young girls through life.
With every run I have participated in, a new level of perseverance reveals itself, levels of perseverance I did not know I possessed and I now talk myself through the run to keep going as opposed to telling myself it is okay to stop.
Running has helped me order my life. Those who know me best will say I am very organized. I prided myself in alphabetizing anything that could be alphabetized, yes my groceries were in some kind of order in the cabinet, and filing was like breathing. For the past few years I went to the extreme opposite of being organized. Since running, I started organizing my surroundings and belongings both at home and at work. I tell myself, you completed that run which you thought you couldn't do now tackle that pile of clothes or papers. I've turned our spare room into a scrapbooking room, have organized all the books I've purchased and haven't read into a pile and am reading them one by one (because now I can find them!)
But completion, this is where I get emotional.
I have felt and functioned in failure mode for the past twelve years disabled by self-inflicted crushing thoughts and attitude. But with No Boundaries, the very name is freeing, I can envision the FINISH LINE and I cannot wait to cross it! No Boundaries has freed me to open up to new endeavors, not conclude I cannot do something without trying, but mostly it has set me free of the mindset that I do not deserve any given thing I pursue.
No boundaries, I have stepped over the threshold toward miles and miles of accomplishments.
Ana