Fleet Feet Sports Savannah's History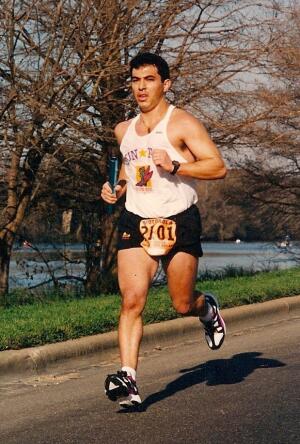 When Fleet Feet Sports Savannah owner Robert Espinoza was in ninth grade at Battery Creek High School in Beaufort, South Carolina, he decided that he wanted to sell shoes for a living. He told his best friend, "You know what would be the coolest thing? To sell Asics shoes". And for decades now, that is just what he has been doing.
Robert worked for Run Tex for 10 years in Austin, Texas. In Austin he developed his passion for working with community leaders to organize marathons, half marathons, and many other running/walking events that are exciting for all, and raise funds for great causes. When he made the decision to open his own running shoe store, there was no question as to the location. Having lived in Beaufort for a few years while in school, Robert knew he loved the area and felt drawn to move to Savannah and make a difference.
Savannah at the time had a non-existent running scene, but Robert saw that as a great opportunity. Robert and his wife Cookie moved to Savannah in 2001 and Fleet Feet Sports Savannah's doors first opened on March 2nd, 2002. Robert has since created and grown a market for his shoe store by organizing races, creating training groups, and encouraging the growth of high school cross country. "Savannah now has a vibrant, active running scene that is the envy of much larger Southern cities. Much of that transformation can be attributed to Espinoza, who has become the key figure in Savannah running." said Bob "Wish" Wischnia of Run.
Only 2 months after celebrating the store's 10 year anniversary, another celebration was to be had. On May 18th, 2012 the ribbon was cut once again celebrating the grand re-opening of the newly renovated and expanded Fleet Feet Savannah. Robert bought the building in 2011 and expanded to the left and right in 2012. This marked the beginning of Robert's vision becoming a reality of someday having three different experiences all under one roof. Fleet Feet Sports Savannah now had become "Running at Fleet Feet", "Women at Fleet Feet", and "Racing at Fleet Feet". "Running" sits in the original store's space with 2,000 sq. ft. of shoes, men's apparel and accessories. "Women" is now 2,000 sq. ft. of women's running, yoga and exercise apparel and sports bras. "Racing" is another 2,000 sq. ft. of office space and backstock.
Months of work including refinishing floors, knocking down walls, painting the interior and exterior, installing new fixtures, replacing the outside awnings, and so much more was done to the old building. All that work has paid off tenfold though, because the result exceeded everyone's expectations and never ceases to amaze anyone who walks through our doors. Being able to spread out more, we then were able to expand our product lines, dive deeper into the apparel business and develop a better focus on improving our customers' experiences. Doing this will help us to continually improve the quality of the events we put on, and improve the health of our running community.
As we love to look back and see how far we have come, it is more exciting to look into the future and realize how much is left to be done!