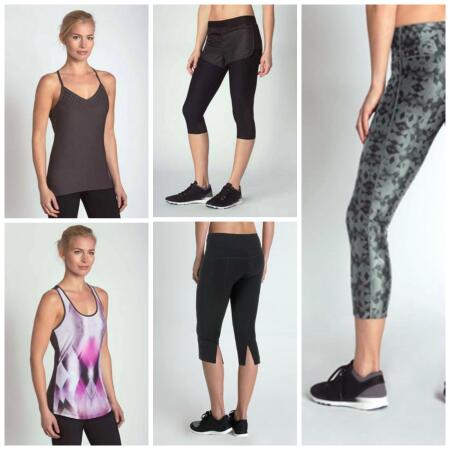 MPG Sport continues to roll out unique, functional and fashionable apparel for women that captures the imagination and delivers on performance.  The new fall collection has finally arrived and will delight MPG fans. Here is a sampling of some of the pieces for running, yoga and active lifestyle that you can find locally.
Dare Capri in the Tri Geo Print - $54.00
This workout capri is made of a performance jersey fabric in a combination of 88% polyester & 12% spandex.  The capri has a 21" inseam and a wide waistband with a shaped back yoke to hug the body.  There is an internal storage pocket.  This print design and neutral palette will look great with other neutrals such as black, gray and white on top or even better, bold colors like red, royal blue or gold will really set this pant off.  People will notice!!!
Define Capri in Black - $46.00
This is a slit hem capri tight in a performance jersey fabric like the Dare Capri.  It has a 21" inseam and has center back fitting seam detail.  It also has back slit detail on the cuff for an easy fit and feel.  The waistband has an internal key pocket.  Everything will go with this capri which will function as a core piece in any runner's or yoga enthusiast's wardrobe.  It is a great value at just $46.00
Flowetry in Black - $58.00
There are many skirt/capri pieces out there from various apparel makers, but this one from MPG is the most creative around this season!  It is more like a short/capri than a skirt capri. The fabric is called Rain Defense Cire and has an incredibly youthful look and feel to make you want to run faster and further!   There is an air mesh trim package on the piece and a soft, elasticized waistband for true comfort.  You have to see this item and try it on to appreciate how fun and functional it is. 
Elemental Illuminate in Bubblegum and Heather Charcoal - $36.00
The Argyle look is back, following on all the retro trends this season, and the Elemental printed sport tank is perfect for a retro run.  The fabric is a go-to jersey in an ultra light weight.  The tank has a relaxed fit, comfortable racer back and a curved hem with a printed front panel and a solid back.  Running never felt so good as in this easy piece at an incredible price point.  
Fundamental Illuminate in Glacier and Heather Charcoal - $38.00
This is the all sport short sleeve tee version of the Elemental Tank in the same Argyle print.  It has all the same design features of the tank but with a comfortable cap sleeve and an open scoop neckline.  Another fine fit and feel at a great price. 
Inspiration in Asphalt - $48.00
This is a strappy tank with a laser cut motif.  You will want to go for a run in this sassy top or pair it with jeans or a skirt for going out.  The fabric is a performance jersey and the back panel is made of power mesh for great breathability.  The custom laser cut perforated panels are a key design element and a performance element all rolled into one.  There is a shelf bra with removable cups and double support back straps for fun and function.  This will be another one of your core go-to pieces for the season.
You can find all of these pieces at Fleet Feet Sports Sarasota!