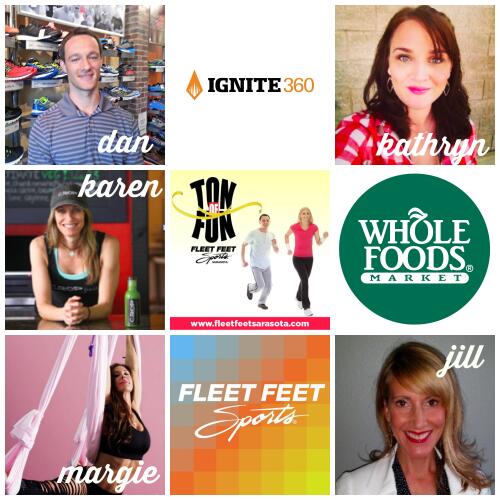 Dan Washmuth, MS, RD, HFS - a Registered Dietitian
Dan Washmuth has experience working with a wide range of people from professional athletes in the NFL, NBA, MLB, and Olympic sprinters to individuals trying to be healthier and lose weight. Dan will be offering 4 nutrition clinics/workouts throughout the program and will be available to answer questions through our closed Facebook page on Mondays from 6-8pm. 
IGNITE 360 Fitness - Official Fitness Partner of Ton of Fun
IGNITE 360 Fitness is a high-energy, unique training experience for people of all ages and abilities who view fitness as a lifestyle.    
Kathryn McCue - Healthy Eating & Green Mission Specialist for Whole Foods Market Sarasota
As a graduate of the Institute for Integrative Nutrition, Kathryn McCue is passionate about fusing physical fitness and the power of the almighty fork to boost the health out of life. More Info Here
Karen Odierna from CROPjuice
Karen is a former oncology nurse, a fitness instructor with over 20 years of experience & owner of Sarasota's own CROPjuice. The mission of CROP is to deliver the highest quality, most nutrient dense, cold pressed, 100% organic juice packaged in glass!  
Margie Pargie from Yoga Hangout SRQ
 Margie Pargie loves to inspire, motivate and transform the lives of others through her teachings of yoga, breath and movement.  Her style of teaching is fun, playful and sure to give you a great workout. She incorporates a balance of strength, flexibility, stamina and relaxation for her students to leave accomplished and blissful.
Jill Edwards from PlantBasedMovement.com
Jill received her BA in Education from the University of Michigan and MS in Exercise Science from Oakland University. She is a certified Clinical Exercise Specialist through ACSM (American College for Sports Medicine) and has a certificate in Plant-Based Nutrition from the Center for Nutrition Studies. Jill has attended Dr. Caldwell Esselstyn's Heart Disease Reversal Program at the Cleveland Clinic and has over 8 years of experience helping patients recover from Cardiac and Lung Events in Cardiopulmonary Rehab. She currently works under Dr. T. Colin Campbell (author of The China Studyand Whole) as an Instructor Team Manager for the Center for Nutrition Studies. Jill is also a Regional Representative for FCVPR (Florida Cardiovascular and Pulmonary Rehab Association) and Public Speaker.