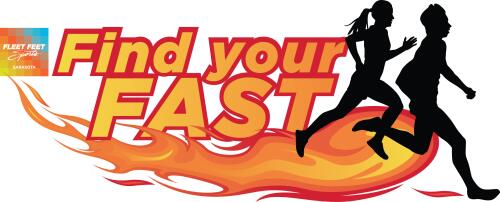 Tuesday Night at the Track
Sponsored by Fleet Feet Sarasota & Manasota Track Club
Whether you currently run a 5 minute, 11 minute or a 14 minute mile, come join us on Tuesday nights for a FREE speed workout led by USATF Level II certified track coach, Kim Sheffield, who has been running and coaching for over 20 years.
Why should you incorporate speed training into your workout routine?
If you want to run faster, speed training is a great tool to accomplish this.

Speed training teaches "pace" and gives you manageable increments to hold that pace.

Helps to teach proper running form which will make you a more efficient runner.

Develops and strengthens your aerobic capacity and builds endurance and stamina.

 Familiarize your body with discomfort- similar to when you are racing

 
Workout information:
Coached workout on Tuesdays, 6-7pm. Be ready to go by 6pm.

Form drills and customized workout based on your goals and pace

Workouts will be alternated between Payne Park and Brookside Middle. Please call the store for more details on weekly meeting spot.
The goal is for you to work your aerobic capacity, have some fun with running buddies, prepare you for upcoming races or to get you back into running fast again, and to keep you injury FREE!!!!!
Questions? Call Fleet Feet Sarasota, 941-894-3338 Or Email us at training@fleetfeetsarasota.com