by Nancy Flanagan
Last month, the Wall Street Journal ran an article called "Leggings in Loud Prints Are a Hit – Bye Bye Basic Black". This was an interesting piece outlining a shift in women's leggings and capris that I have been noticing the past year in Sarasota. If you are like me, you have been seeing, and perhaps purchasing, more print capris and tights than black or solid color bottoms. Head to a local gym and you will see women in subdued prints or wild print patterns. Go out for a run and you will see women in rainbow prints nearly as often as women in solid black capris. If you ran the Gasparilla events in February (totaling 28,000 participants this year) you found a virtual sea of print shorts, skirts, capris and tights on women of all shapes, sizes and ages. So why are women moving away from basic black and going bold on their workouts?
Well, many of us just want something different and more fun. We have been conditioned for years to think that black bottoms are more flattering and that wearing bold colors and/or prints on the bottom just calls attention to problem areas of our figures. That is, it's better to just wear basic black bottoms and vary your workout wardrobe with prints on top. Well, the rules are changing and women are finally realizing that basic black is just that – basic......and boring!  Why not change up your workout wardrobe as often as you change up your workout?  So designers are finally coming forth with fun prints, colors and combinations that not only perk up your bottom half, but also your workout attitude!
Also, the conventional wisdom about prints not being flattering has changed. Actually many women now find that the busier the print, the more flattering it is to the body because the eye follows the movement of the print. Prints also hide flaws and highlight the right areas of our bodies at the same time. The key is to find the print capri in the right, high quality fabric so that it does not looked stretched on the leg. 
Another key is to wear the right top with your print bottoms. Often a simple, fitted top works well or a looser fitting sleeveless tee is good, too, or just wear a coordinating sports bra if you are more daring. Finding the right top is just a matter of having fun with the pieces in your workout drawer and doing some experimenting. 
So, in deference to feeling good and looking good during a workout, here are a few examples of cool new print capris to consider adding to your workout wardrobe. By adding a couple of these pieces to your capri lineup you just might find yourself putting on the basic black only when the prints are all in the laundry!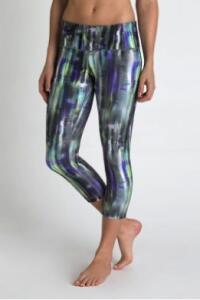 The "Dare" Print Capri by MPG - $54.00 retail
Performance jersey fabric in watercolor print of blackberry and apple shades with 88% polyester/12% spandex.  This piece has a 21" inseam and wide waistband with a shaped back yoke and infinity drawcord at the waist.  Reflective MPG logo on the leg.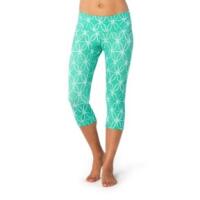 "Infiniti Capri III" by Brooks - $68 retail
This lattice print piece features compression stretch fabric with a wide flat waistband and a drawcord waist.  Includes silicone gripper at the leg opening and a back zip, moisture-proof media pocket and 18" inseam.  Storm gray and green lagoon colors.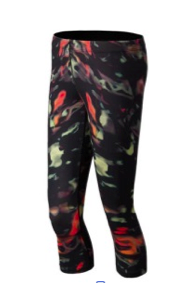 New Balance Printed Capri - $75.00 retail
This new capri has a bold allover colorful sublimated print.  The recycled microfiber polyester fabric has flatlock seams that stretch with you while you work out. Has a plush elastic waistband and gusset that keeps you cool as the months warm up. 19" inseam.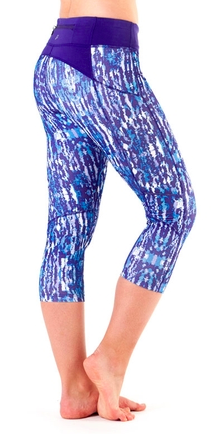 Redemption Capri – Skirt Sports - $75.00 retail
This 21" inseam capri has a moisture wicking 87% polyester blend with 13% spandex jersey and UPF 50+ protection.  Has a key pocket in the front waistband and zippered pocket on the back waistband with a hidden continuous drawcord.  Slimming design lines come through in this "Escape" print of blues, plums and white.