Today, Communications Coordinator Krissy is guest-blogging about her recent experience in-store with a Professional Bra Fitting during the recent "Bra Fittings by Appointment" event! Read on and call or drop in anytime to have your FREE bra fitting in-store as well!
Hi, all! My name is Krissy and I have been running for about 5 years. Through my running experience, I have learned all about the ins and outs of having the proper gear - from the importance of proper shoe fit, to appropriate apparel, and yes, even professional sports bra fittings!
Although I've trained for, and completed 2 ultramarathons, 14 marathons, 19 half marathons, and countless races in shorter distances, I have to admit that I am currently facing the biggest challenge ever - running while pregnant! While I have been fortunate enough to have my doctor's blessing in continuing with my favorite sport, and have been able to log consistent (albeit much slower) miles, the problem remained: my sports bra situation!
What was my "breast" option?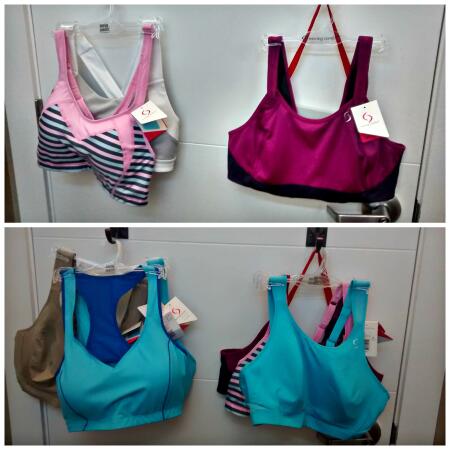 I posed the challenge to Nancy (Fleet Feet Sarasota Apparel Buyer) and Danielle, two professional FIT Experts at Fleet Feet Sarasota, and thankfully, they not only addressed my concerns, but gave me plenty of options to consider!
First of all, when I arrived for my appointment, I was greeted with a warm welcome, and asked what I would be using the bra for. After a brief consultation, in which I detailed my (obvious) physical state, plus my activity level and intentions (running and walking), Danielle took a few measurements - first, over the bust, then around the ribcage.
Now, I should not have been as surprised as I was, but wow, did those numbers shock me at first! I measured 43 and 36, respectively, which Danielle informed me, according to her scale, put me at a 40D. From there, she pulled a few bras in the stores most popular brand, Moving Comfort, to try on for fit.
These are the bras I tried:
Moving Comfort Fiona - Now, this was a bra that I already own, but in my "regular" size of 38C. Today, I tried on a 40C and it actually was a pretty nice fit. The only issue with this bra, for me, is that it doesn't have modesty cups. Not a deal breaker, but I also don't like blinding people with my headlights if I can avoid it ;) The nice thing about this bra, however, is the adjustability - with the front adjustable straps, you can customize fit - plus, it's often recommended for nursing moms for that option! (+)
Moving Comfort Urban Cross Over (discontinued style) - For me, this was a poor fit that didn't offer enough support, though the style looked cute on the hanger (in the image to the left, it's the pink striped one). Danielle and Nancy pointed out that it wouldn't offer enough in the cup area if my girls decided to grow more as well, so this was a no go. (-)
Moving Comfort Jubralee - I had never tried this one on before, but I was pleasantly surprised! It looked a bit like a Fiona, with more front coverage. I compared it to one of my favorite bras I currently own, the Juno, but with an open back, as opposed to a racerback. (+)
Moving Comfort Maia - Of all the Moving Comfort styles, this one was definitely the best fit. It's a unique bra that essentially combines two bras in one, combining molded cups, underwire, and a layer over that part - a great answer for larger chested women that feel the need to wear two bras. I had to size down in this one to achieve the right fit, so bumped down to a 38D. (+)
Moving Comfort Vixen - I used to own this bra...years ago...and loved it! However, this one was a no-go in my current state! No adjustability on the shoulder or back meant an unbalanced fit (gaping under the breasts, but that dreaded "stuffed sausage" look in the back). Stark contrast to the Maia that I had just tried on! (-)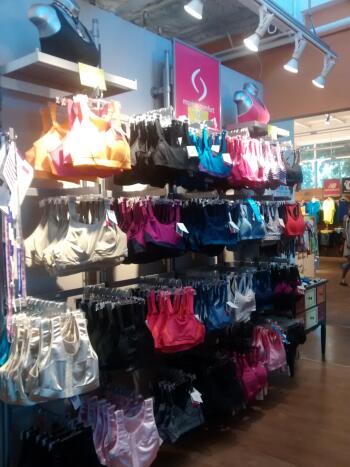 After reviewing the fit of each of the bras I had tried, Danielle and Nancy took a step back to the bra wall to offer me an alternative suggestion - the Kelly Bra from Skirt Sports! Although I own a few apparel pieces from the brand, I had never tried on any of their bras, so I was definitely game!
Pulling on that bra, I have to admit, after trying on the many different bras in the past 20 minutes, I could immediately feel that this one had a comfortable and flattering fit. Like the Maia, it encapsulated each breast, instead of "smooshing" into a uni-boob look, and the adjustability from the back and top (like the Fiona). To top it off, the molded cups rounded out the modesty level (like my favorite Juno!) and frankly, the black kept the look surprisingly sleek.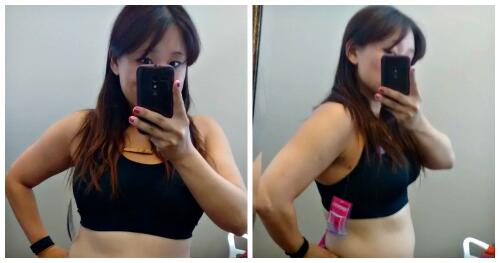 On top of this, Nancy explained to me that the straps on this bra were not only adjustable, but convertible, which meant I could switch up the back to go with different tops, from "open back" to "criss cross."
I was sold!
From this experience, I truly discovered the importance in taking the time to discover the fit experience, and I was very thankful for the patience and thoughtful advice given to me by Danielle and Nancy. They never rushed me, and always took the time to answer any questions I had, or offer alternative suggestions!
Although this fitting took place during a designated bra fitting event, it's my pleasure to share that you too can have an incredible fitting experience like this anytime you stop in to Fleet Feet Sarasota! Nancy mentioned that it's not only important to find your fit, but to keep up to date with your fit, as just like your feet, your size may fluctuate, plus, even with proper care, your bra should be replaced at LEAST annually, so consider a dual shoe and bra fitting the next time you're in store!
Special thanks to Nancy and Danielle for their professional assistance and advice!
---
Have you ever been professionally fitted for a sports bra? What questions would you have for a professional fitter?