JOIN US as we Challenge the Community to Collectively Lose a TON OF WEIGHT (2,000 pounds).  Register at www.fleetfeetsarasota.com Click on TRAIN. Click on TON OF FUN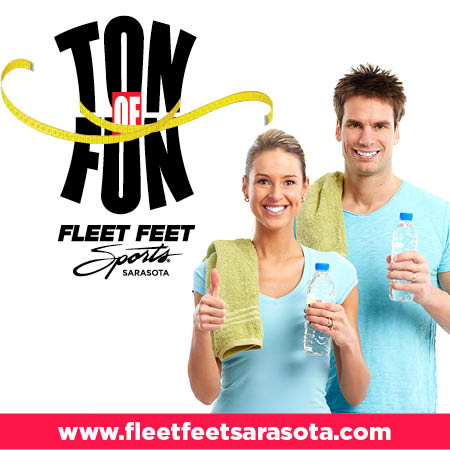 As a community, let's lose a "ton" (2,000 lbs.) of weight. Join the national craze of proven success, that is taking the country by storm. 
Cost: $50
Program Dates: February 9 - May 1
Structure:
A 12-week weight-loss challenge program with weekly weigh-ins and support, group workout opportunities, fun ideas to get moving in Sarasota,  injury prevention, and nutritional tips from local professionals and fantastic community partners. Plus, don't miss the special prize incentives!!
Weight Loss Milestone Goals and Incentives:
5k club: lose 3.1 pounds, prize is one free NUUN

10k club: lose 6.2 pounds, prize is one Fleet Feet water bottle

Half marathon club: lose 13.1 pounds, prize is Fleet Feet Tervis tumbler

Marathon club: lost 26.2 pounds, prize is $25 gift card
Additionally, all participants will be eligible to win Fleet Feet Sports Sarasota gift cards to "earn back" registration fees in percentage loss increments! 
Questions? Contact Coach Whitney training@fleetfeetsarasota.com