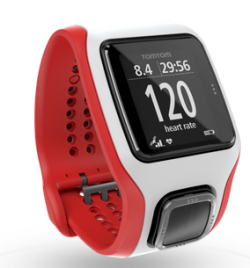 by Nancy Flanagan
Many serious runners use some sort of GPS sport watch to train and race with. There are now many brands out there to choose from – Garmin, Timex, Soleus, Suunto, Nike, just to name a few, and all have their distinct features and benefits.  It is really a matter of individual preference and what suits the runner when it comes to making your selection.   I have used a Garmin (various versions of the Forerunner) for the past half dozen years and have been happy with most of the features, however the two things I wanted to improve on were the heartrate monitor and the battery life.  I really dislike wearing a heartrate monitor strap and also having to charge my GPS watch constantly.  So in my quest for the perfect running timepiece I just purchased a TomTom Runner Cardio GPS last month and began the process of learning a new watch and figuring out how it can help me monitor and reach my running goals.  If you are in the market for a new sports watch, the TomTom Runner Cardio GPS may be right up your alley……here are my thoughts after 3 weeks of use.
Running without the heartrate monitor strap is so much more comfortable! No more having the strap ride up or down due to sweating – there is really nothing extra to attach to your body during a workout!
The watch itself is a much nicer profile – it is ultra-slim and the plastic band has notches in it that grab hold and do not allow the watch to slide around on the wrist due to sweat and movement. This is a huge plus for me since the watch really stays put and is relatively lightweight!
The screen is nice and large (for those of us with 63 year old eyes) and readable, however it can only accommodate 3 different metrics at one time as opposed to the Garmin, which can track 4. One main metric is shown large in the middle of the screen and two minor metrics are shown in smaller figures at the top of the screen. For those who want to track 4 metrics at a time, this may be a disadvantage for you.
For training purposes, there are a wide range of metrics that you can see while running – calories, heart rate bpm, heart rate zone, distance, etc. I can't think of anything I would want to track that is not available on this watch.  Most are easy to read and the symbols are intuitive.
There are 6 basic training programs that you can use – Goals, Intervals, Laps, Zones, Race, and None.  Although I have not used all of them yet, the manual is pretty clear about how to work within each activity. 
One of the features I like the most is the tracking of the Heart Rate Zones while you run.  Once you have entered your height and weight into the watch, then you can see the percentage of time you spend within each of the intensity zones – Easy, Fat Burn, Endure, Speed, and Sprint.  You can easily see the distribution of your  entire run at the end, spread out over these 5 zones, both in numbers and in graph form.  Love that immediate feedback during and after my workout!
If you like the Virtual Partner function on the Garmin, you will have to use another approach with the TomTom.  There is no VP type function, but there is a "Race" function where you race against yourself (via past race performance data) to improve your time.  You can also apply this concept to competing against set goals and or heart rate training.
Although I am not a treadmill gal, this watch has the ability to function both outside and indoors on a treadmill.   This might be a bonus for runners who work out in both situations.
The TomTom is actually a watch, not just a GPS tool, and so you might find yourself wearing it for that purpose as well.  The specs say the battery is good for 8-10 hours when using the GPS.  I let the watch run down completely and it took just over 2 weeks, although I only use the GPS function for 30-90 minutes about 5 days per week.  Recharging is easy and done from a desk dock that hooks up to your laptop.
You can also transfer all the details of your fitness activities to TomTom MySports using TomTom MySports Connect to keep track of your runs and goals and accomplishments.
There are many aspects of the TomTom Runner Cardio GPS that I have not mastered or even tried yet, but my initial feeling is that this is a very useful and flexible tool for everyday training and racing.   This model retails for $269.99 and comes in 3 color combinations – white with red, black with red, and all black.