Fleet Feet is excited to now carry 3 shoes from Reebok!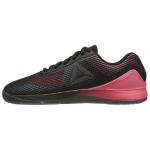 The first, the often sot after top Crossfit Shoe, the Nano 7. This 7th generation of CrossFit shoe keeps the natural shape and stability athletes covet, and comes with a flexible bottom for mobility and traction. The added heel piece creates a fit lockdown for better leverage as you lift. And as many crossfitters know, these shoes wouldn't shred when you climb rope. 

The second has just been name Best Debut Shoe from Runner's World in March 2017, the Reebok Harmony Road. Slip on these kicks to spoil your stride. As you get into your run, the shock-absorbing midsole delivers comfort for the long haul. A mesh upper breathes, while the seamless construction keeps irritation away. The sturdy outsole makes this shoe last.

Finally, the most anticipated shoe from Reebok - the New Float Ride. Introducing Floatride, our first running shoe featuring Floatride Foam technology. Its unique consistent cell structure delivers soft, responsive cushioning without compromising weight, so you can float through your run. This shoes is great for 1/2 marathons or full marathons!