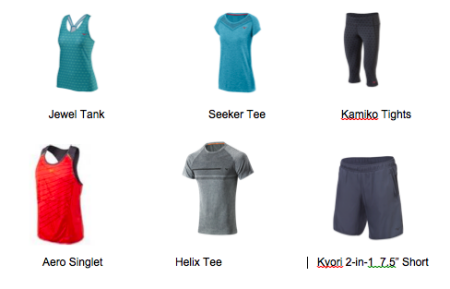 Many of your love your Mizuno shoes for running – the Wave Rider and the Inspire are top selling models for men and women in our area.   These shoes fit well, perform well and look great on the feet.   Now you can get Mizuno brand apparel to coordinate with those great looking shoes!   Mizuno has upped their game in the apparel world recently with some great new looks, fabrics and styles for the avid runner.  If you saw the cool charcoal gray heather singlets that the MTC team was wearing at the new Relay event held in November, then you have an idea of the fabric look and feel. 
Some of the styles that are new for women racers include the Jewel Tank, the Leeloo Tank, and the Seeker Tee.  Let's start with the Jewel Tank, This is an update to the fitted tank from previous years and the new structured design features an origami-inspired print in some beautiful colors such as Lake Blue/Florida Keys.  The Jewel has a subtle reflective treatment for safety, 4-way stretch fabric with a curved racer back and smooth seams for easy movement.  This tank is a great value at $37.99.
The Leeloo Tank is another very special piece designed for performance but with a more generous fit and coverage.  It has the same fabric and structure as the Jewel Tank but with a unique kimono-inspired horizontal stripe in vivid orange, pink, blue and black stripes with a black background.  This will be your go-to tank for the season!  $41.99 retail.
The Seeker Tee is a lifestyle look and feel piece that features the new Curpo yarn which provides extreme softness and durability.  The seamless construction makes for an anti-abrasion fabric that will breathe and feel wonderful on the skin.   This piece has cap sleeves and a flattering scoop neck and comes in the Lake Blue with Haute Red detail trim. $44.99 retail.
To work with all the tops, you can purchase the Kamiko Tights – a ¾ tight  with a wide waistband, hidden key pocket, and nylon fabric for compression and durability.  The Kamiko print  is stylish and subtle in black and gray tones.  $59.99 retail.
For men, there are two new singlet styles, the Aero and the Venture.  Both singlets feature the Blindstitch technology for anti-abrasion and provide for maximum breathability and 360 degree Blacklite reflectivity.  Colors are Turbulence gray and Haute Red.  If you are an Ohio State fan, this color combo is for you J  The Aero retails for $44.99 and the Venture at $38.99 retail.
The men's equivalent to the Seeker Tee for women is the Helix Tee for men.  It is an exceptional value at $44.99 and the design is also exceptional.  This is the fitted lifestyle look tee that can go out for a run or out to dinner and look great in both settings.  You have to feel this fabric to appreciate it….. 
For the men's bottoms, you will find the Kyoir 2-in-1 short in a 7.5 inch length. This short has a zippered back pocket, 2 side zipper pockets, 2 side pouches, and a circular drawstring at the waist.   The inside short has a 9" inseam so it will be great for running, crossfit, walking, whatever.   If you are looking for a multi-functional short with tons of pockets, this is the one for you….$59.99 retail.
The other men's short is the Featherweight Mid Tight.  This one is a durable half tight with light compression for support.  It can stand on its own or function as an under layer. This one will be perfect for Florida's hot summer running season.  $49.99 retail.
Happy Running!