What is it?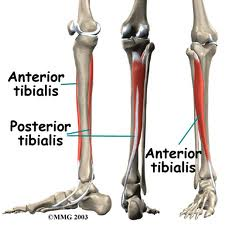 Catchall term for overuse problems affecting the legs
Anterior-lateral is overuse of the dorsiflexor muscles including  the tibialis anterior
Posterior-medial, also called medial tibial stress syndrome effects the tibialis posterior muscle and soleus
Causes:
A major factor for the posterior shin splints is overpronation.  The tibialis posterior controls pronation and is excessively stretched during overpronation.
Anterior shin splints may be caused by weakness in the anterior tibialis muscle and tightness in the calf muscles.
Sudden changes in running surface, distance, speed may all contribute to the development of shin splints.
Symptoms:
Pain typically at the start of activity and then decreasing as the muscles warm up.  Pain typically reoccurs after the activity is done.
Point tenderness along the affected muscles. 
Solutions:
Education on proper training techniques and when to switch shoes out ( anterior/lateral )
If caused by excessive pronation, consider a stability or motion control shoe/insert ( posterior/medial )
Arch support through use of an insert for the shoe (over-the-counter, semi-custom, or custom)
Calf and hamstring stretches
Proper progression of running
Rest / cross training to allow time for the inflammation to decrease

Physical Therapist may suggest strengthening exercises

Use of a compression sleeve during activity
Use of ice pack