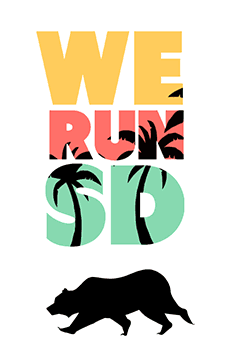 Weekly Runs, Monthly Yoga, and Trail Tours
Join us in store for a group run on Wednesday evenings or Saturday mornings! Varying paces and distances, check on the links below for more details! All of our runs are designed for all paces and all ages.
Join Fleet Feet San Diego for our weekly fun runs every Wednesday evening. Meet at 6:15pm for an easy routes of 2.25, 3.5, 5, or 6 miles through Carmel Valley's neighborhoods, trails, and bike path. We'll meet back up at the store for snacks and refreshments! All abilities welcome. No need to RSVP, just show up.
Join the Fleet Feet San Diego crew for a scenic long run to kick off your weekend. We will have route options up to 10 miles, going out and back on the 56 bike path toward the ocean and returning with water stops along the way. Runners can easily loop around for 3.5 miles, turn back earlier on Carmel Valley Rd. for 8.2 miles, or turn around at any point on the out and back for any desired distance. Make sure to arrive a bit early to warm up and stow any personal items (we have lockers available). All paces welcome!
Join us monthly for FREE yoga classes! DPT Katie D'Amato teaches a great class to help you stretch, build strength and increase mobility. Yoga for runners focuses on core muscle groups, breathing techniques, and functional mobility to help with injury prevention and overall performance.
Our group trail run is an inclusive trail run, ideal for all levels and all paces. It is a FUN, GROUP run, where no runner is left behind. Even if it's your first-time running trails or you've been running trails for years, it is about having fun, connecting, and supporting the trail running community. Once a month, we'll explore different trails around San Deigo, meeting up for group runs ranging from 3-7 miles.