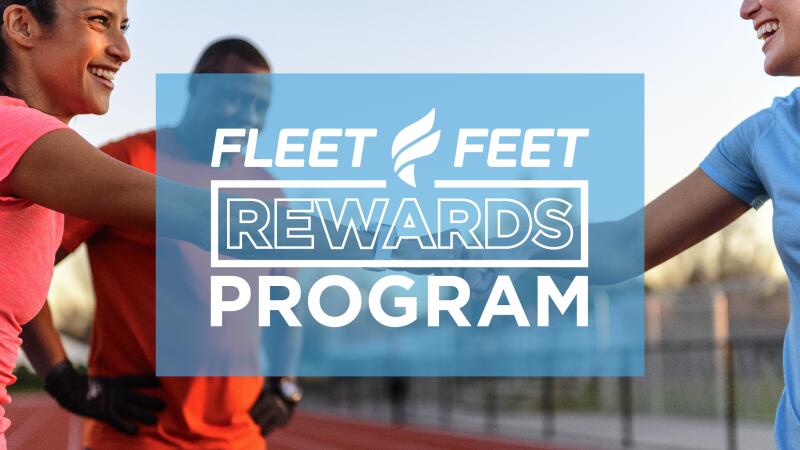 Earn Points & Miles!
We launched a new Rewards program, and we want you to be part of it. In addition to rewards for every dollar, you can now earn trips, merchandise, and experiences for doing what you love most, being active. Manage all Points and Miles with the free Rewards Program App. At participating locations only; check the app to find the locations.
Fleet Feet Rewards Points
Earn 1 Point for every $1 spent in store
Receive a $15 Reward for every 150 Points earned
No minimum purchase when redeeming $15 Reward
No rewards card required at the register
Easily keep track of your Points in your Rewards App
Purchases made with gift cards are eligible for accrual of points
Fleet Feet Rewards Miles
Earn 1 Mile for every 1 mile you run up to 100 miles per month
Earn Miles through social media engagement
Earn Miles by checking in at store training runs with the app
Earn Miles by attending special in store events
Redeem miles via app for prizes, special event access, and sweepstakes
Redeeming $15 Rewards & Miles
POINTS
You will receive an in-app message when you've earned 150 and have a $15 Reward
$15 Rewards cannot be redeemed the same day they are earned; they will be available to use the next business day
$15 Rewards are redeemable on in-store merchandise only
$15 Rewards will expire 6 months after issue date.
MILES
You may redeem MILES in-app for Rewards. Some Rewards must be picked up in-store. These will be noted in the app
Stores will be notified once you have redeemed such items; you do not need a card or ID for in-store pick up.
When you redeem Miles on your app, the equivalent number of miles will be reduced from your account
Here at Fleet Feet San Diego we value your support of our locally owned and operated business. When you shop with us, we hope to give you expertise that are above and beyond the norm in a retail setting. We also try to go above and beyond in making sure you leave happily and look forward to coming back for your next visit.