Saturday, September 27, 2014, 8:00 AM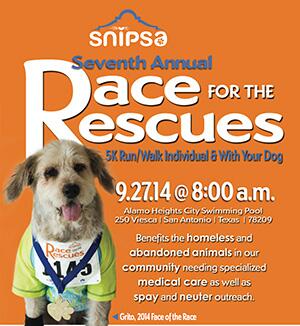 This event will benefit the homeless and abandoned animals in our community needing specialized medical care as well as spay and neuter services. 5K runners without dogs start at 8am; runners with dogs and walkers will start a few minutes later. 
Registration now open. Register here.
Event Fees*: 100% of funds are used to fund animal medical needs. (Sorry, no refunds).
5K Individual Run for Competitive Runners without Dogs - $30**
5K Run with Dogs / 5K Walk with or without Dogs- $30**
5K Children under 14 yrs - $15
5K Run/Walk Team Entry (10 person minimum) - $25 per runner
*No refunds. 100% of funds will be used to fund animal medical needs.
**Registration after 7 p.m. on September 26th and on race day is $35/registrant.