Why choose the Official CIM Training Program?
Not sure if the Official CIM Training Program is right for you? Check out these testimonials from athletes just like you.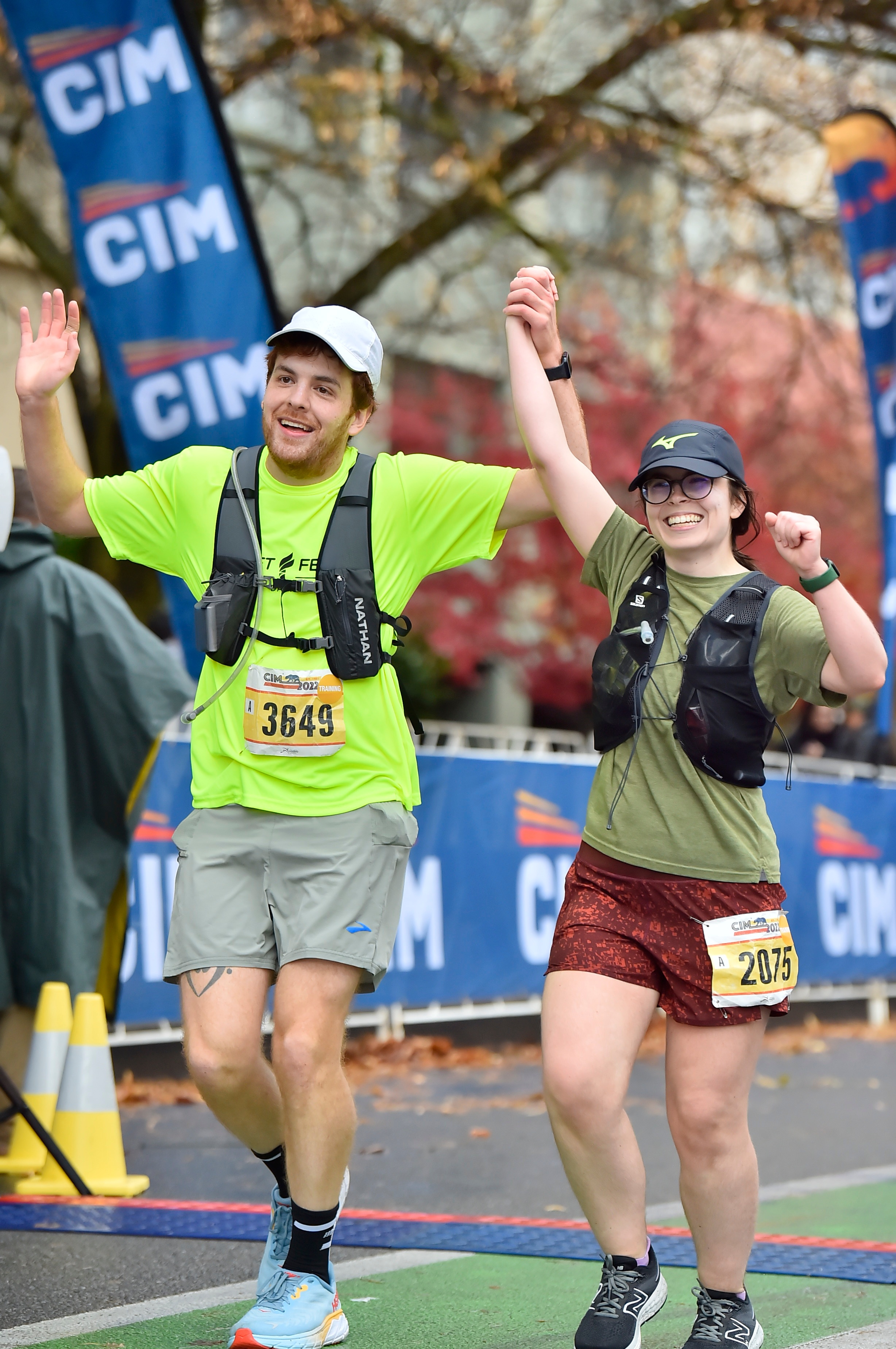 Megan W.
I never would have described myself as athletic, especially not a runner. Since I was a kid, I was always the last person picked for sports teams and came in last place during fitness tests. In spring of 2022, my husband and I began running through Fleet Feet's No Boundaries 5k program while trying to get back into basic fitness after the pandemic. While I found that I really enjoyed the running itself, I was even more excited about the community and connection Fleet Feet was able to build through their programs. The coaches made training accessible for slower runners and people with health conditions, which gave me the confidence to attempt the CIM Training. With the support of the coaches who helped me work through injuries, my asthma, and doubt along the way, I completed my first marathon doing run/walk intervals the whole way. Because of the encouragement of the coaches and mentors in the CIM program, I now proudly call myself a runner.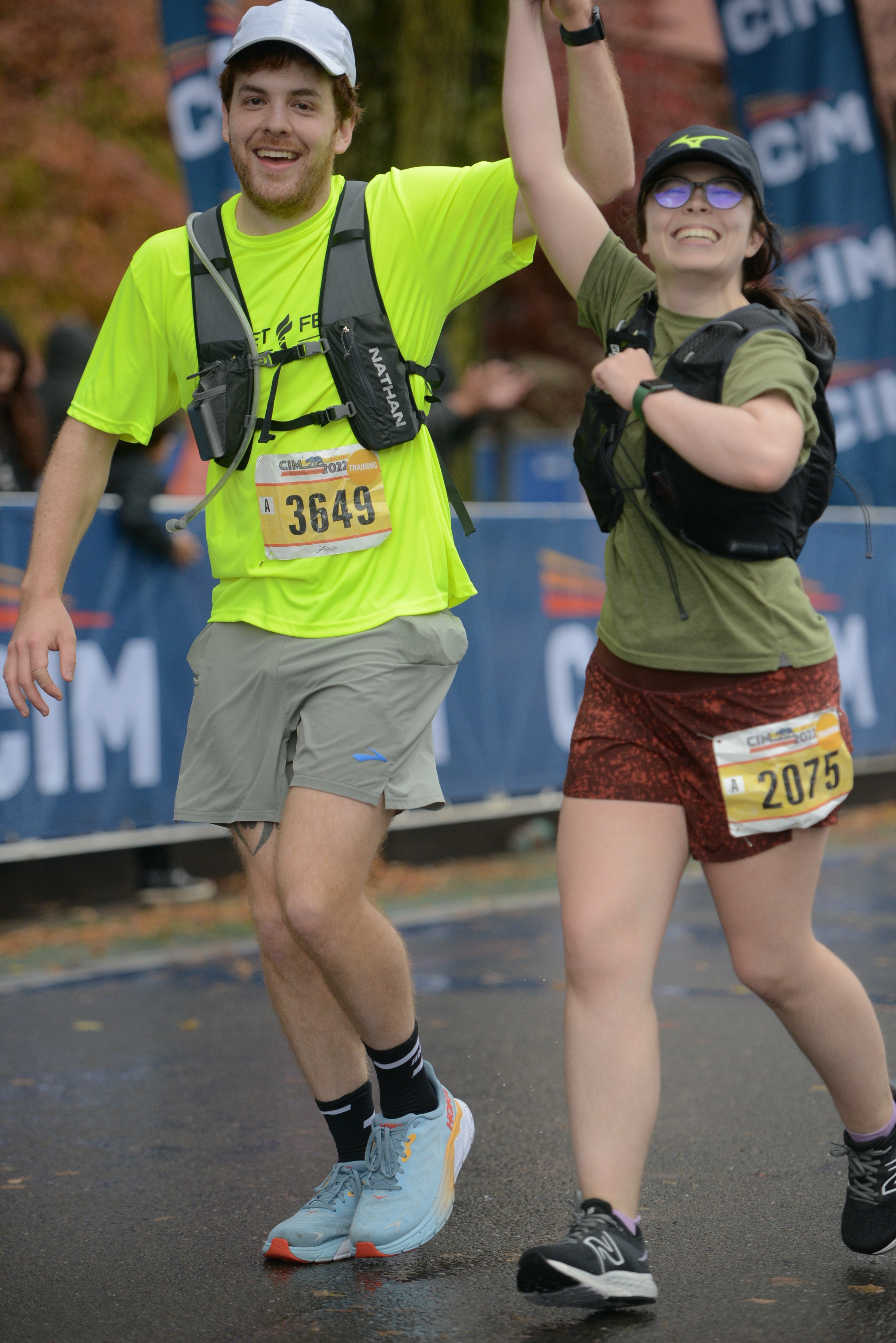 Taylor B.
Before joining Fleet Feet's training program, I didn't think of myself as a runner, let alone a marathon runner. Running a few miles would leave me feeling tired and in pain. However, when my wife Megan and I decided to be more active, we enrolled in Fleet Feet's No Boundaries program for new runners. The coaches and mentors were incredibly supportive and encouraging, which motivated us to keep training.
The detailed training plan provided by Fleet Feet included running, speed workouts, and long runs on weekends. While the workouts were challenging, they were effective in preparing us for the California International Marathon, which we successfully completed in the winter of 2022. This experience not only helped us achieve our goal of finishing a marathon but also allowed us to make new friends and become part of a supportive running community.
If you're thinking about running your first marathon or want to improve your time, I highly recommend Fleet Feet's training programs. The coaches and mentors are knowledgeable and supportive, and the detailed training plans will help you achieve your goals. Don't hesitate to join and become part of the thriving running community at Fleet Feet.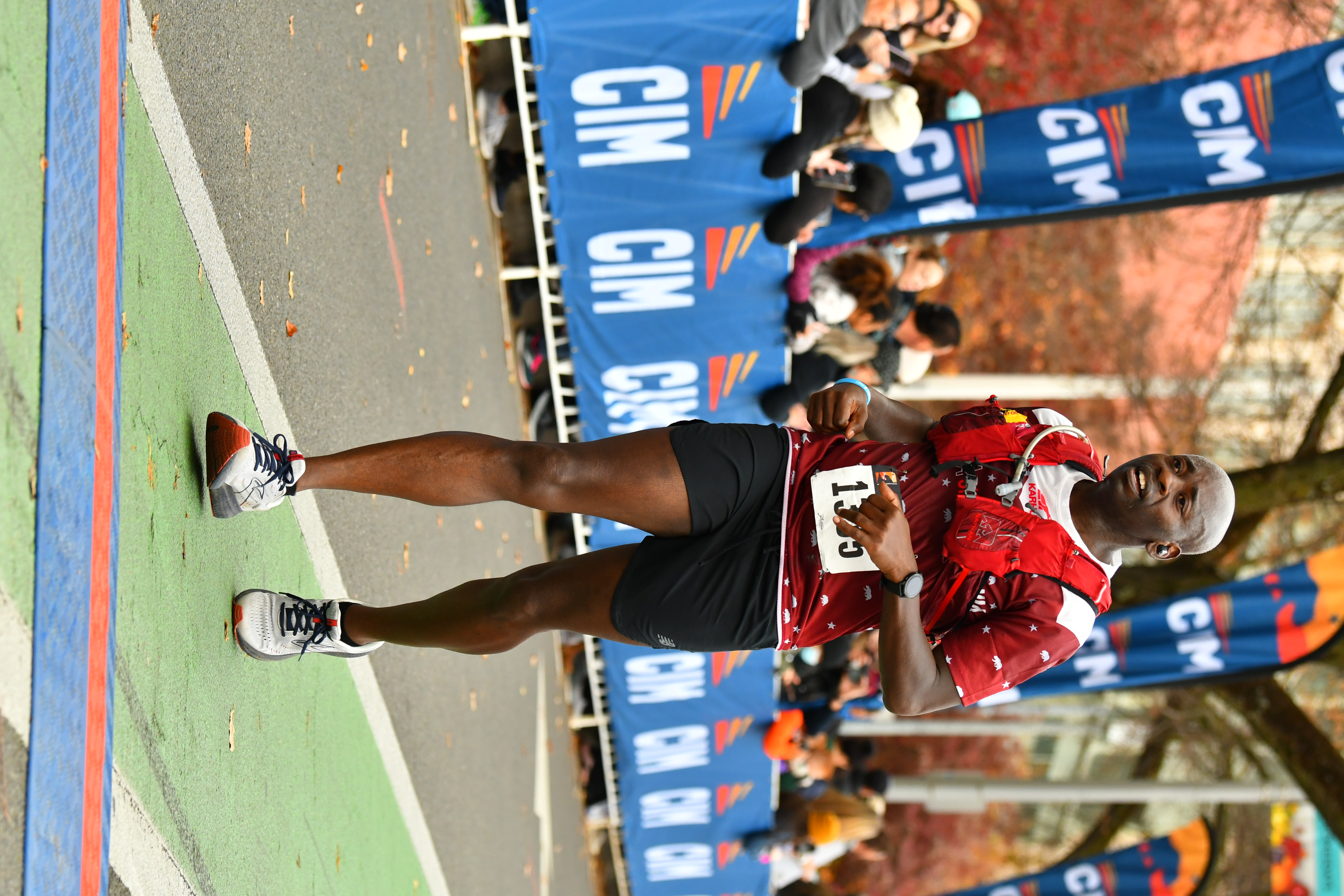 Damien S.
Participating in the 2021 CIM training program with Fleet Feet was one of the most rewarding decisions I made. I wasn't confident in my fitness level at the time of training and was worried I could not do this. The coaches understood my worries, and with their professionalism, expertise, and support, I successfully completed the California International Marathon with a personal record. Not only were the coaches great, but the mentors were fantastic, motivating and encouraging. This program provided community and welcomed me into the all inclusive Fleet Feet family. My expectations were exceeded and can't wait to train with Fleet Feet training again for CIM 2022.

Michelle R.
A have been running for about 6 years and I wanted to tackle 26.2 after completing many 1/2 marathons. I knew I would not have the motivation or discipline to train on my own so I joined the Fleet Feet Training program. The FF coaches and mentors provide great information about warming up, running form, stretching, recovery & the race day experience. Most importantly, the training runs bring you together with other like-minded people who are all working toward the same goal. We encourage one another and celebrate our milestones together! We were treated like VIPs on race day with our own buses, warming tent and restrooms. It really calmed my nerves to be surrounded by our coaches and fellow trainees, many of whom became friends. I highly recommend Fleet Feet Training Programs. The coaches are welcoming and do a great job of teaching and motivating. We have a daily training plan, but meet together twice a week to run together. I enjoy meeting up with a group of people who all share a love of running. Whether fast or slow, young or old, we encourage one another.
Richard H.
The over all program was excellent. I am 74 years old and wanted to run a marathon since I enjoy running . Have had no formal training and never ran long runs and was attracted to the FF program because of the quality organization I have found FF to be. Program was appropriate for a beginner and for one that just want to finish the CIM. I met my marathon goal, enjoyed the relationships I developed and felt very comfortable for being an oldster. Always encouraged to be me and always felt supported. [Coaches] Bri, Charles, Erik, Dalia were all terrific. They maintained the integrity of program by being on time, being prepared, and following up with good communication....and they made it fun! Also enjoyed the perks of the training program, the warming tents, bathrooms, buses, and the ability to gather before a race. By undertaking this training program I know I inspired many people around my age group by my commitment and ability and maybe even a few youngsters. I was fortunate to have not hurt myself along the way and I attribute that to the leaders always asking how I was, how the training was going, and asking if I needed anything. I plan to run the 2022 CIM when I will be 75 and beat my time when I was a youngster of 74. Thank you!
Cynthia G.
After deciding to run a marathon in 2021, I wanted to find a training group that would have a lot of experienced coaches, a detailed training plan, and fellow trainees who were also going to be running their first marathon. I had been running for about 10 years before signing up, and was really comfortable with running 10+ miles when training began. I asked the coaches/mentors A LOT of questions. They were always ready with detailed answers and lots of encouragement. The training plan can seem intimidating at the beginning, but at the end of 18 weeks, I was ready for the marathon! The mid-week speed/hill workouts combined with the long runs on the weekends really worked! Training for a marathon is a commitment, but it is also a lot of fun. I really enjoyed meeting new people and have made many new running buddies!
The best advice I received from one of the coaches on day one of the program was this, "If you follow the training program, you WILL be ready for a marathon after 18 weeks. You don't have to do more than what's on the program, but try not to do less." I followed the program (with a few exceptions- sometimes life gets in the way!) and sure enough, I was ready to run the marathon. Even better, I finished in the time I had set out for myself. I can't thank the Fleet Feet coaches and mentors enough - it was a wonderful experience and I would highly recommend it for anyone looking to run a marathon.