Discover the Power of Movement!
In No Boundaries, you will find a community to cheer you, challenge you, and help you reach your goals. Learn how to build a fitness-oriented lifestyle through walking and walk-running. Whether your goal is to complete 3.1 miles for the very first time or to add a healthy habit to your routine, No Boundaries fits YOU!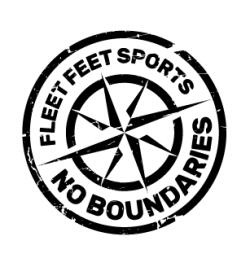 Dates:
Session 1: January 18 - March 11, 2020
Session 2: April 18 - June 3, 2020
Day/Time: Wednesdays at 6:00 PM and Saturdays at 8:00 AM
Goal Event:
Choose your training location when you register!
Fleet Feet Sacramento
Fleet Feet Davis
Fleet Feet Elk Grove
Questions? Email sactraining@fleetfeet.com
Register to receive:
$15 Fleet Feet coupon
8 weeks of expert training
2 group workouts per week
Experienced coaches and mentors to support you along the way
Daily training schedules
Education on proper form, pacing, fueling, stretching, and more
Core strengthening and stability exercises at all workouts
Nuun electrolyte drink at all workouts
Weekly training newsletter
Exclusive discounts at local partners
Suggested Activity Level Prior to Start of Training
No previous exercise experience is required. We recommend that you check with your doctor before starting a fitness program.

Registration Details
No refunds after the first workout. No exchanges or transfers at any time.
Training fee does not include any race entry fee.
For liability and safety reasons, dogs, children under 13, and strollers are prohibited Fleet Feet Training workouts.
Questions? Email sactraining@fleetfeet.com.