Fleet Feet Bra Fit Process
Clearly, sports bras are just as important for women as shoes. Our Fitlosophy applies to our bra fitting process as well, and staff members are well-trained in proper bra-fitting techniques and we have sports bras for women of all sizes.
---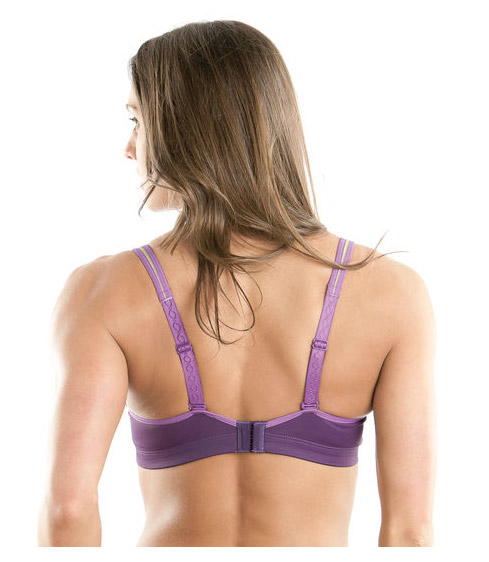 FEATURED PRODUCT 
Moving Comfort Vero C/D ($42)
Shape and compression in a chic and versatile package—offering two great styles in one supportive bra.
• Seam-free interior molded cups
• Front DriLayer® Powermesh zone
• Adjustable, convertible back straps can be worn straight or in a crossback position
• Adjustable back closure
• Encapsulation/Compression
---
There are TWO essential pieces of athletic equipment for women: properly fitting shoes and properly fitting sports bras.  Did You Know?
80% of women wear the incorrect bra size.
Women should be fit for a bra at least once a year to account for weight loss or gain and other life changes.
The average life of a sports bra is 6-12 months. (This is assuming you hand wash and hang dry!)
A properly fitting bra can delay the stretching of the Cooper's Ligament, which is the primary cause of sagging as women age.
WHAT MAKES A GOOD SPORTS BRA?
Support: If you're a small- or medium-breasted woman (A to C cup), a compression style bra will offer support and comfort. Or if you prefer, you can choose a bra that offers encapsulation for shaping as well as support. If you're a larger-breasted woman (C to DD cup) you may find encapsulating styles that separate and support your breasts more comfortable and more supportive than compression bras. For maximum support, choose a sport bra that does both.
Also, different activities result in different degrees of movement. The higher the impact level, the more support you'll need.
Comfort:Try on different styles to find out what you like best. A good sport bra should feel comfortable, stay in place, and not chafe. The straps should not dig into the shoulders and the band around the lower chest should not shift or bind.
Do jumping jacks, run in place, and swing your arms side to side to make sure what feels good is comfortable and supportive when you're in motion. Keep in mind that a good sport bra should fit more snugly than a lingerie bra to provide you with support, but should not be uncomfortable or restrict movement or breathing.
Moisture Control and Breathability - A good sport bra will wick sweat away from the skin and then dry quickly. It will be breathable, allowing perspiration and excess heat to pass through. A good sport bra will keep you cool and dry when it's hot, and dry and warm when it's cold.
For women, the right sports bra is as important as the correct shoe. We carry a wide range of high impact bras in various styles, colors, and sizes (from 32A through 54DD) from vendors such as Moving Comfort and Champion.