What is Plantar Fasciitis? How can I understand my constant calf pain? Why do my heels hurt when I step out of bed in the morning? 

Do You know that we not only take you through the fit process for your shoes but also for Shoe insoles and inserts that may be imperative to your overall joint health. Come in and aksed to be fit for a pair today! 
Aches & Pains: Shinsplints, knee pain, tight and sore muscles, ITB syndrome or even the dreaded plantar fasciitis, we've been there. At Fleet Feet Sports we offer a wide variety of tools to help prevent and treat most injuries. We know first hand how unbearable it can be to take time off so we're here to help aid you in a speedy recovery or even better avoid these problems in the first place.
Our staff has been trained by Trigger Point Therapy Master Instructors and has also been trained in Good Form Running (and Walking) techniques.   Combined with our product knowledge and FIT Process you will be off to a great start in preventing injury.
TRIGGER POINT THERAPY
Trigger Point Therapy Products allow you to maintain the healthy of your working muscles on a daily basis instead of waiting until something hurts.  Imagine being able to have a deep tissue massage on a daily basis.  A short routine of the Ultimate 6 areas each day will reduce your chance of injury significantly.  Ask one of our staff for assistance or attend one of our Trigger Point Therapy clinics.
SUPERFEET INSOLES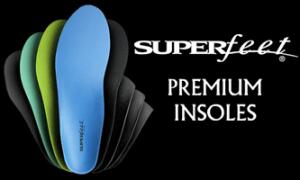 Spend all day on your feet? Do your heels hurt or perhaps you've experienced a burning sensation in your arch? Have you been diagnosed with plantar fascitiis or battle achilles issues? Then you should strongly consider a better insole for your all of your shoes shoes. Superfeet insoles are one of the best over the counter adaptive orthotics on the market. Let our staff assist you in determining which Superfeet insert is right for you.  There are even Superfeet for dress shoes, cleats, golf shoes and all other types of athletic shoes!