A California International Marathon training experience like no other!
The Official CIM Training Program has everything you need to run your first or your fastest marathon: experienced coaches, ability-based training plans, marathon specific seminars, race-day Premium amenities, and so much more!
All participants receive a CIM training plan designed for three different goals: Finish, Improve, and Perform. Work with Fleet Feet coaches every step of the way. Choose from three tiers of coaching based on how much feedback and plan customization you would like from your coach. Check out the tiers below.
Online coaching is a monthly subscription service. Start training NOW, or whenever works best for you. Starting on August 1 will provide you with 18 weeks to train for CIM, but you are welcome to start sooner or later—whatever works best for you! You will be billed monthly for the coaching tier you select. If you join mid-month, your fee for that month will be prorated.
Coaching Tiers



---
Program Details
Dates: Now - December 3, 2023
Goal Event: California International Marathon, December 3, 2023
So Much More
Official CIM Training Program tech tee
Race day premium amenities
Weekly training newsletter with training tips and more
Workshops on proper form, pacing, fueling, stretching, and more
Ability-Based Training Plans
Finish: Complete your first marathon
Improve: Become a faster, stronger marathoner
Perform: Compete in your age group, capture an ambitious PR, or qualify for a dream race
Race Day Premium Amenities
Athletes enrolled in Online Coaching for 3 consecutive months have access to Premium Amenities! Enjoy the Fleet Feet experience on race day with a Fleet Feet-only pre-race shuttle from the finish line to the exclusive Fleet Feet warming tent at the start line. Perhaps most importantly, skip the lines and use the Fleet Feet-only set of portable restrooms outside the start line tent. Whatever your race day needs are, Fleet Feet has you covered!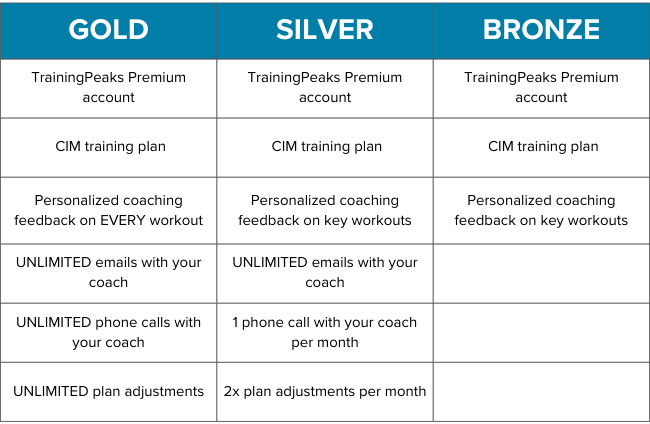 Registration Details

Training fee does not include any race entry fee.
---
Proudly Sponsored By: