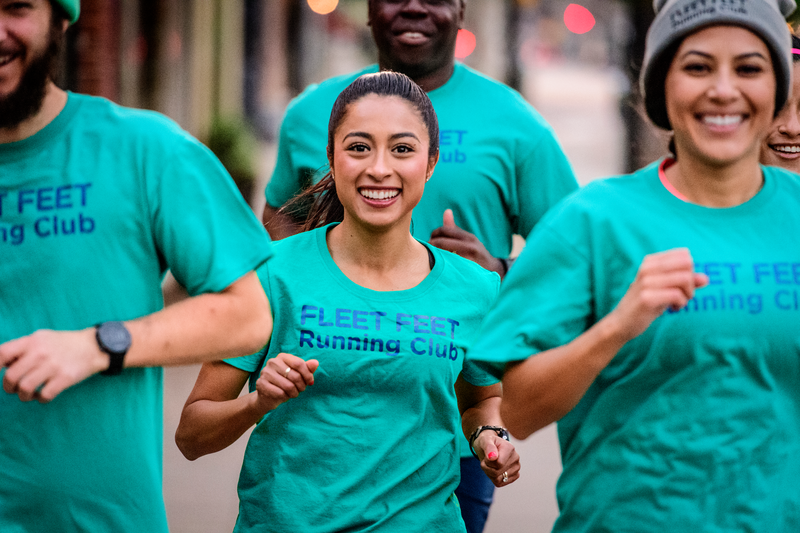 No Boundaries: This group focuses on beginners, but all levels of runners are welcome. This 13 week program is structured to assist you with crossing the finish line of your first race or to help existing runners meet new performance goals. Whether you are new to running or are looking to run a faster 5k, this group is for you.
Along the way we'll provide you with motivation to keep you moving, guidance and advice, weekly group training runs or walks, and educational clinics on topics such as proper nutrition, choosing the right gear, and avoiding injury. Plus, you'll have the camaraderie of others just like you!
The program meets twice weekly on Wednesday evenings and Saturday mornings. The workouts will last about an hour to an hour and a half as we increase mileage throughout the season.
Summer session for No Boundaries begins on May 22nd, 2019.
Program Details for No Boundaries
When: Wednesdays at 6:00p.m. and Saturdays at 8:00a.m. weekly
Where: We meet weekly at the Fleet Feet store and run various routes.
Cost: $25
Group specific t-shirt included!
Goal Race: Madison 5k on August 17th (disounted rate)
**There will be several other local/area races at discounted rates leading up to the goal race as well.**
What you can expect from this group:
Supportive and inspiring coaching
Fleet Feet Mentors providing support on each run and at races
Encouragement and motivation
Weekly training outline and suggestions
Fleet Feet key tag for group check ins
Incentives
Discounts on various local races and goal race
Educational demos on nutrition, strength, injury prevention, cross training, etc.
Non-competitive environment
Please contact Jenn at (jen.w@fleetfeetrockford.com) or call the store at 779-423-1435 for more information.
There will be an information session on May 8th at 5:30pm. We highly suggest attending this meeting for more information.
No Boundaries Summer Training Program More Info »
Program Start: Wednesday, May 22nd at 6pm
Program Schedule: 13 weeks: Wednesdays at 6:00pm and Saturdays at 8:00am
Program Fee: $25
Description: No Boundaries focuses on beginners, but all levels runners are welcome. The program is structured to help you cross the finish line of your first race and perfect for participants who are looking to run a faster 5K!