A dedicated team working passionately to provide our community an exceptional fit in the pursuit of fitness and well being.
Opened in 2017 to serve our community as a running, walking, comfort resource-we outfit for activities from trails, races, leisurely strolls!Fleet Feet Sports is a local, family owned and operated store that is part of a network of specialty running, walking, and fitness stores across the country. The Fleet Feet Sports network shares new and innovative ideas to better serve you and your unique needs while continuing to build a culture that puts health and fitness to the forefront of your life.
Our Values
At Fleet Feet, you will find a welcoming environment where runners, walkers and fitness enthusiasts of all abilities receive unparalleled service and support. Fleet Feet's mission is to help you find the right ''FIT'' in every facet of your active lifestyle.
Whether you walk, run, or simply need a good fitting pair of shoes, the educators at Fleet Feet will work with you to evaluate your foot's gait and natural biomechanics to help you select a shoe that offers the best fit and function for you.
Fleet Feet is committed to enhancing and growing our local running and walking communities, and offering educational resources and training opportunities to assist you in achieving your fitness goals. Each store is locally owned and operated. Please visit the locations page to find the Fleet Feet family in your community.
Retail
At Fleet Feet, our mission is to help you conquer your goals at every level, on every surface, at every distance with personalized solutions, inspiration, and knowledge. We want to empower you to pursue your goals and enjoy a lifetime of running. And we are committed to helping you find the perfect fitting running shoes, sports bras, socks, insoles, and gear to do what you love.
We have partnered with the best running specialty brands on the planet in order to provide you with an incredible selection of products from Brooks, Hoka One One, ASICS, Nike, adidas, Saucony, Mizuno, New Balance, ON Running, CEP, Garmin, Gu, Balega, Feetures and many more. In 2017 we became the exclusive running retailer for Karhu, the 100-year-old Finnish running performance brand. We know you'll love the service and experience at your local store, the selection and convenience of shopping online, and our Happy Fit Guarantee.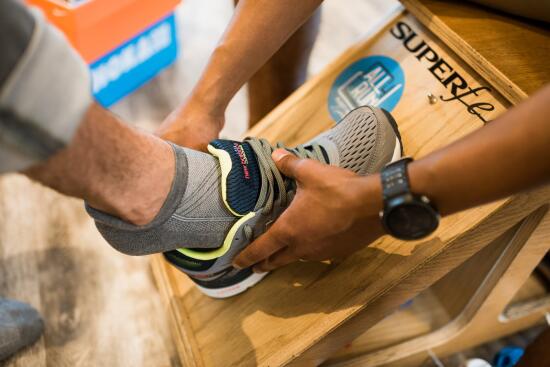 Locations