Winter Warriors: A Winter Challenge
THIS PROGRAM IS

FREE

AND OPEN TO EVERYONE!!!!



Start Date - Tuesday, December 4th
End Date - Tuesday February 26th


VIEW JANUARY EVENTS CALENDAR HERE
Our goal is to help keep you committed to running and walking during the wintery months. This challenge is here to motivate, support and encourage winter activity. We are in this challenge together and look forward to reaching new milestones with you. We will be tracking your points over the course of the program. ***NEW this year - Choose to sign up for all 3 months or sign up for a specific month. PLUS a monthly fitness challenge!!
This group challenge is completely FREE AND OPEN TO EVERYONE, but registration is required.
How this "Winter Warriors: A Winter Challenge" Works
The program consists of two key pieces. Point Collection and Monthly Challenge.
Point Collection
To collect points, check-in with FITVIL at the weekly workouts, special events and races. We will track your points and keep you updated on how you're doing. These points will earn you discounts to use at Fleet Feet. 50 points – 15% store voucher, 75 points – 20% store voucher and 100 points 25% store voucher. 
Monthly Challenge
Each month will offer a different fun, fitness challenge component. Before each workout we will perform the monthly the fitness activity as a group. See month activity below.
December – Squat Challenge
January – Push-Up Challenge
February – Core Challenge
How to earn the Winter Warriors Badge award: Collect 50 points EACH MONTH and the monthly token. Once you reach the 50 points we will award you the token. Each month has a corresponding token. Collect all 3 and 50 points per month and you will be the proud owner of the badge award! 
Where to collect points:
Monday Workouts, 6PM at Ridgeway – 5 pt. 
Tuesday Hill Workouts, 6PM @ The Armory – 5 pt. 
Friday Workouts, 6PM @ The Armory or Ridgeway – 5 pt. 
Saturday Workouts 9:15AM Alternating each week. 5 pt.
Special Event Runs (Eggnog Jog, Resolution Run, etc.) 7 pts each. 
Trail Races (Snow Cheap, Cabin Fever) – 7pts each.
Featured Races (Donut Mile, Cupid's Cup, Winter Warrior Quarter, Half and Relay) – 10 pts each. 
*Special Point Events may be added at any time.
As a Winter Warrior you will receive:
Incentives for attending workouts and earning points
Entry into raffles
Fun events and themed workouts
A warm place to start and finish your workouts
Weeks of winter training to keep you motivated through the holidays and in shape for the spring
Exclusive Winter Warrior communications to keep you up-to-date with themed workouts and events
Camaraderie and support for workouts during the winter!
Winter Warriors Rules:
Once you sign up there is no opt out, you're in! IT'S FREE!
You must be responsible to check in via FITVIL with your scan tag to earn your points at Fleet Feet Sponsored events and runs.
You MUST do the prescribed workout for the day – no checking in and heading off to do your own workout!
No starting early, nor late. A group workout means workout out with a group. Love each other!
For evening workouts we require a headlamp and reflective clothing!!! Bright colored clothing always recommended! Safety First!
Follow rules of the road and proper running etiquette at all times.
NO WHINING!
NO selling, buying, bartering, giving, donating, stealing, bargaining, haggling, negotiating, swapping, trading (or equivalent to these words) for points.
Read the Winter Warriors: A Winter Challenge emails.
Absolutely no spiked/studded shoes inside ANY store.
You must support each other through this expedition.
You must have fun!
Earn the Winter Warriors: A Winter Challenge tokens!
Earn the Winter Warriors Badge! 
Questions about the Winter Warriors: A Winter Challenge Program? Contact Winter Warrior Coordinator at kate.brett@fleetfeetrochester.com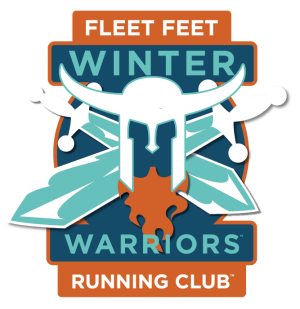 Winter Warriors: A Winter Challenge More Info »
Program Start: Tues. Dec. 4, 2018
Program Schedule: Mon. 6pm, Tues. 6pm, Fri. 6pm, Sat. 9:15am
Program Fee: 0.00