Spring Spartan: The FREE Spring Training program to get you or keep you in shape for the coming summer.


Spartan: A person of great courage and self-discipline.  How disciplined are you to get or stay in shape? You choose where your journey will take you!
THIS PROGRAM IS

FREE

AND OPEN TO EVERYONE!!!!
Our goal is to help keep you committed to running and walking May - June. This foray is here to motivate, support and encourage spring activity and self-discipline to remain or get into shape. We are in this together and look forward to reaching new goals with you. We will be tracking your points and YOU will be tracking your mileage to earn rewards!
Program Dates: May 4 - June 25, 2019
Kickoff is Saturday, May 4th at 9:15am at Armory
Spartan Celebration is Tuesday, June 25th at 6PM at Armory
This group program is completely FREE AND OPEN TO EVERYONE, but registration is required. 
How to become a Spring Spartan, a person of great self-discipline......
The program consists of two key pieces. Point Collection and Honor Miles.
Point Collection
To collect points, check-in with FITVIL at the weekly workouts, special events and races. We will track your points and keep you updated on how you're doing. These points will earn you discounts/prizes along the way. Point collection is between May 4st and June 25th.
Honor Miles
YOU select a goal mileage. It's your responsibility to keep track of your total mileage using the honors system. We provide a weekly log to help. But please use your Garmin, mapmyrun, IPhone or whatever works best for you. On the FREE online registration form please indicate the total distance you would like to cover this session. And then, being active on your own, and using all our group workouts and activities, track ALL your mileage run or walked between the start and end date of the program counts towards your total!  At the end of the program we'll see how we all did in meeting our goals! **online registration form will ask your for a mileage total. Please put in a total for the 2 months. 

To earn the Spring Spartan Badge: 1.) collect 75 points. 2.) Meet your honor mileage goal. 
Monday Workouts, 6PM at Ridgeway – 5 pts. 
Tuesday Hill Workouts, 6PM @ The Armory – 5pts. 
Friday Workouts, 6PM @ The Armory or Ridgeway – 5 pts.
Saturday Workouts, 9:15AM. (3, 5 or 8 mile option) (locale will trade each week) - 5 pts. 5/4 Armory, 5/11 Ridgeway, 5/25 Armory, 6/1 Ridgeway, 6/8 Armory, 6/15 Ridgeway, 6/22 Armory. 
Trail Races (Dirt Cheap, Mendon Mauler) – 10pts each.
Featured Races/Events (Taco Mile, Tour de Cure, Relay for Life, Vale of 3 Falls) – 10 pts each. 
Sehgahunda vollie - 10 points Sat. 5/18
Rochester River Challenge - 15 points Sun. 5/26
UrbanFIT - 3 pts each
*Special Point Events may be added at any time. See calendars for more details. 
** No workout Monday, May 27th due to Memorial Day Holiday

Incentives for collected points and mileage tracking
50 points - awesome prize
75 points - super awesome prize
100 points - AMAZING prize


*IF you gather 75 points and meet your predicted mileage goal you will be awarded a Spectacular Spring Spartan Patch. Patches will be distributed on June 25th at the end of session ceremony. 
As a Spring Spartan you will receive:
Incentives for attending workouts and earning points
Entry into weekly raffles
Fun events and themed workouts
A stupendous place to start and finish your workouts
Weeks of spring training to keep you motivated and in shape for the summer
Exclusive Spring Spartan newsletters/Facebook Page to keep you up-to-date with themed workouts and events
Camaraderie and support for workouts during the spring!
Spring Spartan Rules:
Once you sign up there is no opt out, you're in! IT'S FREE!
You must be responsible to check in via FITVIL with your scan tag to earn your points at Fleet Feet Sponsored events and runs.
You MUST do the prescribed workout for the day – no checking in and heading off to do your own workout!
No starting early, nor late. A group workout means workout out with a group. Love each other!
For evening workouts we require a headlamp and reflective clothing if applicable and hydration for runs longer than 5 miles!!! Safety First!
Follow rules of the road and proper running etiquette at all times.
NO WHINING!
NO selling, buying, bartering, giving, donating, stealing, bargaining, haggling, negotiating, swapping, trading (or equivalent to these words) for points.
Read the Spring Spartan emails.
You must support each other through this foray.
You must have fun!
Earn the Spring Spartan Badge!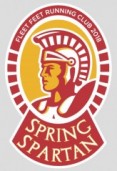 Questions about the Spring Spartan Program? Contact Coordinator at kate.brett@fleetfeetrochester.com
Program Start: saturday, May 4th 2019
Program Fee: FREE