Spring Chase - A Fitness Challenge

Join us for a NEW 7 week virtual program that combines running and walking with fun, daily fitness challenges and more! This program is designed to keep you motivated and accountable. Plus introduce you to new training techniques that keep moving forward! You can take it to the next level by joining The Run Experience for comprehensive programming to fit your training needs.


Choose from two great virtual training options:

Option 1 - Spring Chase Program
Option 2 - Spring Chase Program with The Run Experience Application - TRE provides you a variety of app based virtual training programs with phenomenally coached instructional videos that focus on running, strength conditioning, stretching and more! Program offerings include 5K, Half Marathon and various fitness programs.

Program dates
Monday May 11th - Friday June 26th (7 weeks total)

Spring Chase Overview
To keep you motivated, accountable, moving and having fun your daily goal is to run or walk 20 minutes or more and complete the other daily challenges noted in the workoutlog. Once completed, log your activities in workoutlog. Workoutlog is your own private online fitness journal that is only shared with your coach. In addition to your 20 minutes of running / walking you will receive other workouts and challenges to work different muscle groups and promote self care. These range from pushups, core work to cooking a healthy meal and hydrating. Program includes a t-shirt.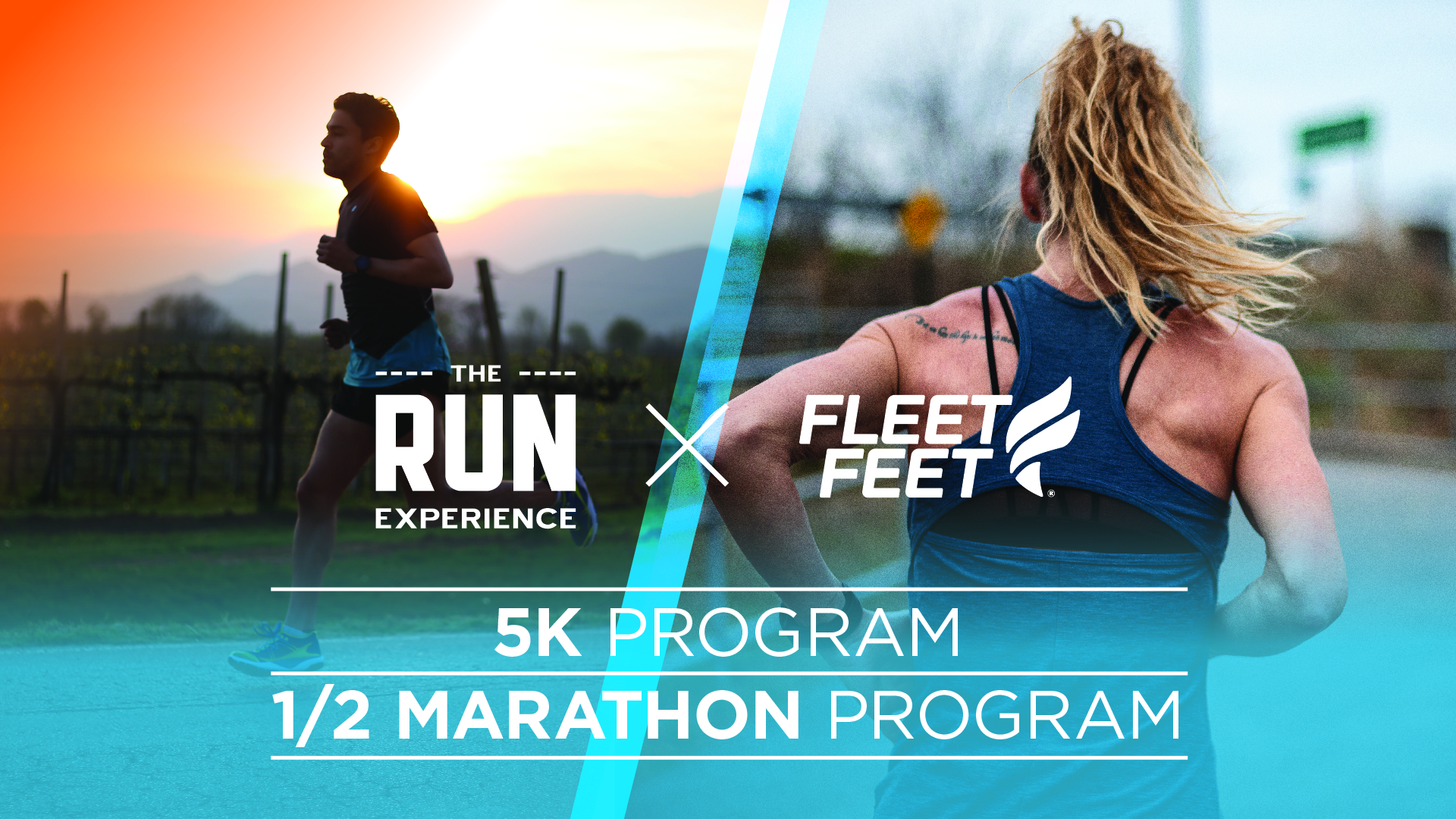 Spring Chase with The Run Experience Overview
All the above listed for the spring chase PLUS an all access pass to The Run Experience Training Plans and content for 7 weeks. About The Run Experience. The Run Experience programs are complete training plans from 5K to Half Marathon to general fitness. That means you are walked through everything you need to do and you will learn the how and the why of all the widely varied drills and workouts. TRE (The Run Experience) trains runners/walkers as athletes. Every runner/walker is unique and our goals, abilities and needs vary. TRE dives deep into the training plan, offering additional videos and support to walk you through each step of the way from warmup to cooldown. It offers a flexible schedule during your 7 week training plan. The app is for runners and walkers. Pictures below. Program includes a t-shirt.
The Spring Chase w The Run Experience Fleet Feet X TRE 5K app program is perfect for those who can run 2-4 miles 3 times/week
The Spring Chase w The Run Experience Fleet Feet X TRE Half Marathon app program is perfect for those who can run 5-9 miles comfortably
There are a multitude of other programs in this app that you can follow including strength, flexibility and injury prevention
Here is a sample of how the App looks on your phone offering multitude of instructional videos and programs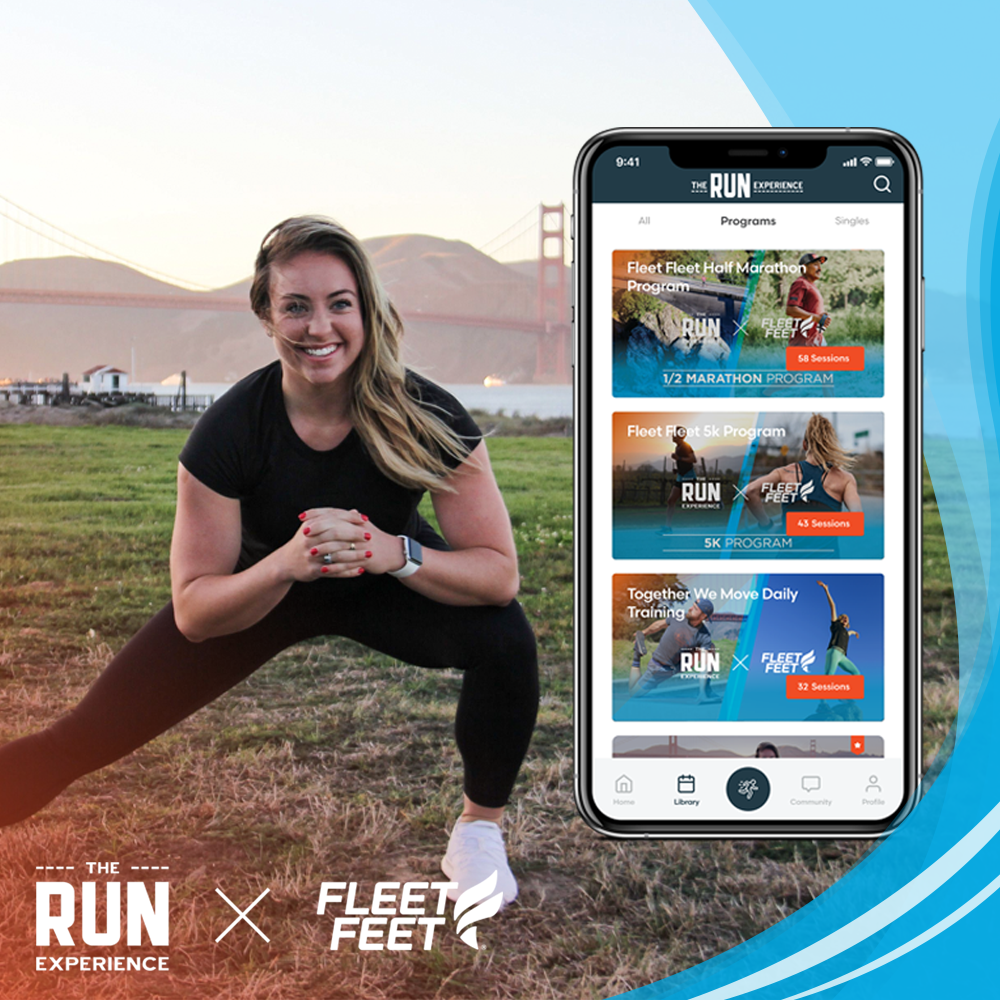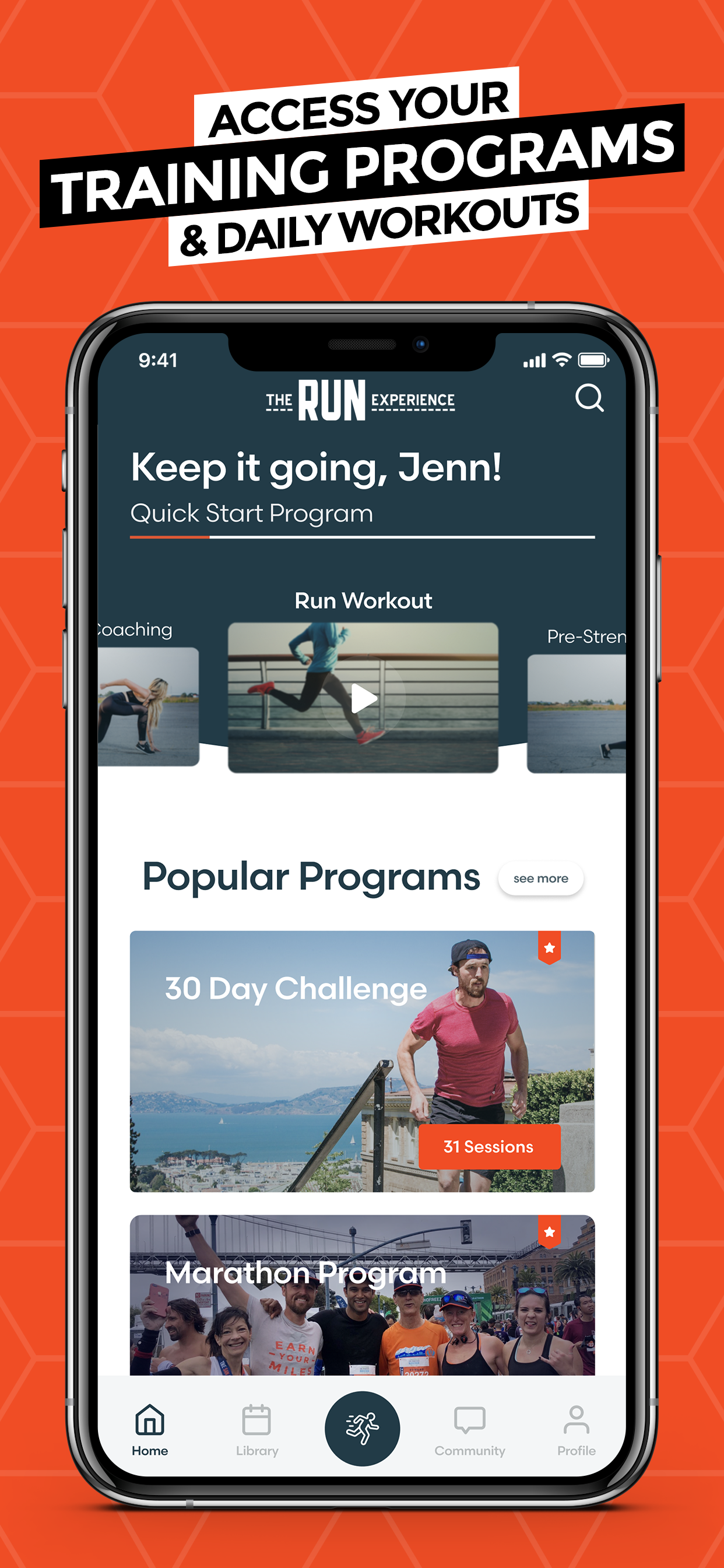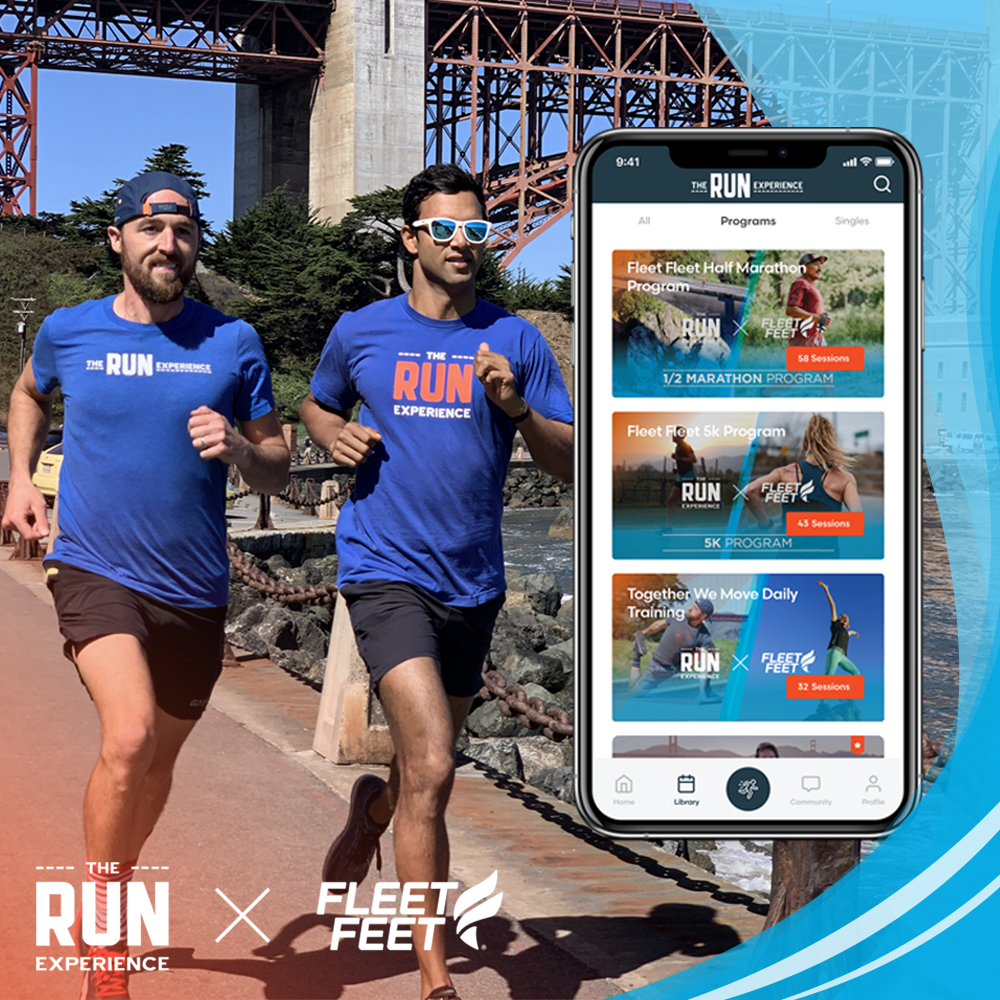 Included with BOTH Programs: The program tee is a unisex cotton tee available in sizes Small - XXL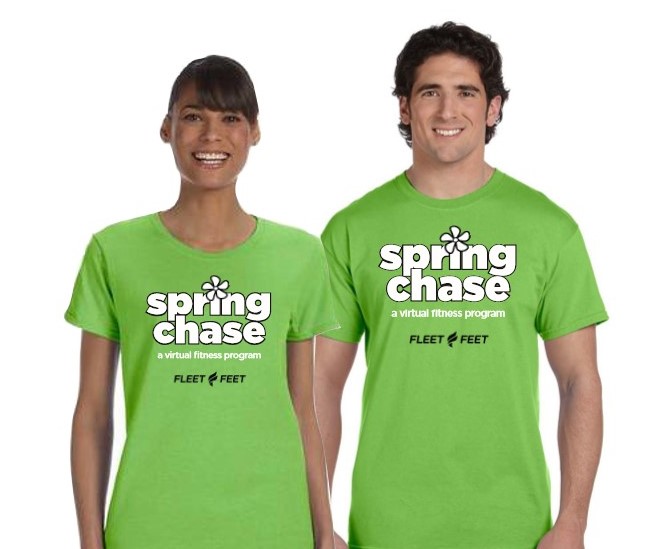 Spring Chase Perks

Spring Chase with the Run Experience Perks

Accountability & Support
Accountability & Support
Fun Daily Challenge
Fun Daily Challenge
Workoutlog account to track workouts
Workoutlog account to track workouts
Weekly zoom chat with the coaches
Weekly zoom chat with the coaches
Program T-shirt and sticker
Program T-shirt and sticker
Virtual Training Facebook Page
Virtual Training Facebook Page

All access 7 week pass to The Run Experience Application

which offers a 5k and Half Marathon Fleet Feet Based Program

among other programs in the app
Learn more
View the Recorded Zoom Info Session - Click Here

Program Fees

Spring Chase Program $30.00 if registered by May 10, $35 May 11th - May 13th. Registration closes May 13th at 11:59PM (sorry, no refunds)
Spring Chase with The Run Experience application access $60.00 if registered by May 10, $65 May 11th - May 13th. Registration closes May 13th at 11:59PM (sorry, no refunds)
To register visit runsignup
Questions?
Contact Kate or Brittany. Kate.brett@fleetfeetrochester.com, Brittany@fleetfeetbuffalo.com
FREE Download - Spring Chase Color By Day Calendar - HERE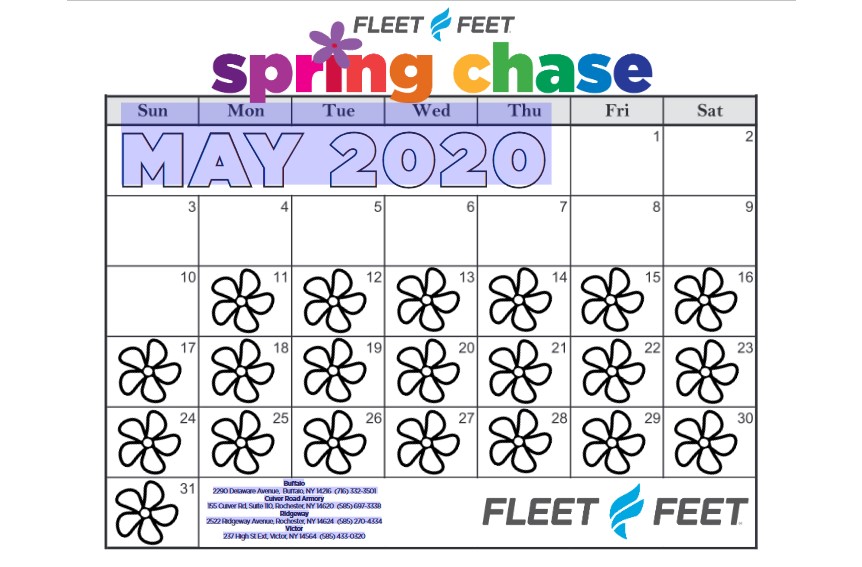 Spring Chase - A Virtual Fitness Program More Info »
Program Start: Monday, May 11th
Program Schedule: Daily workouts
Program Fee: $55.00 and $60.00 with The Run Experience, fees increase after May 10th