Come run or walk with the PACK with Pace Pass!
Session III Starts Saturday, October 6th at 7:30AM at Fleet Feet @ The Armory

Welcome to our 2018 Pace Pass Training Group! As always, we will offer premium paced group runs on Saturday mornings to meet everyone's different goals and ability levels. But a few things will remain the same:
A super fun and encouraging environment
Premium Pacers that are passionate about helping others achieve their personal athletic goals
Scenic courses throughout the area that showcase all of Rochester's beauty and charm
On course hydration refill stations every week
In-store savings on select Pace Pack shopping days
A limited edition "Pace Pack" training top
The Distance Project:  For some this option may apply.... to learn more about how to earn the Distance Project Badge Click Here and start filling out the denoted Excel Spreadsheet today.
Our Pace Pass provides a unique opportunity for you to train with our Half and Full Marathon Training participants. We offer 16 different pace groups (7:00, 7:30, 8:00, 8:30, 9:00, 9:30, 10:00, 10:30, 11:00, 11:30,12:00, 12:30, 13:00, 13:30, 14:00, 15:00 minutes per mile) and offer up to four different distances each week. The distances begin at 5 or 8 miles on the first Saturday of each session and will gradually increase as you train towards the following regional event:
Session III Pace Pass
Start date: Sat. October 6th 

End date: Sat. December 29th
Program meets on Saturdays at 7:30am
Session III Fee: $45.00 
Training towards the Winter Warrior Half Marathon
Distance Project Badge Requirements: Earn a Distance Project Badge by:
Attending 2 Pace Pass sessions, completing 250 miles in those paced runs, and attend at least 75% of the workouts during each session
- and -
Completing 3 Half Marathons, or 1 Half Marathon and 1 Full Marathon in 2018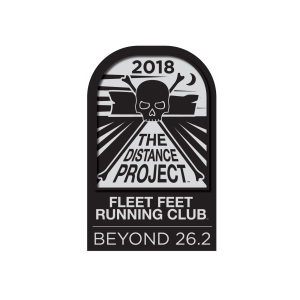 ***Please note: There are breaks between sessions when the Saturday Paced Runs are not held. Dates and locations are subject to change. All information for workouts will be sent via email the Thursday before each scheduled run/walk. 
Are you interested in becoming a pace group leader. See what it takes!
For questions about the Pace Pass please email the program coordinator Kate: Kate.brett@fleetfeetrochester.com 
Pace Pass (1 or 3 session Pass) More Info »
Program Start: Sat. October 6th 2018
Program Schedule: Saturday at 7:30am
Program Fee: $45.00