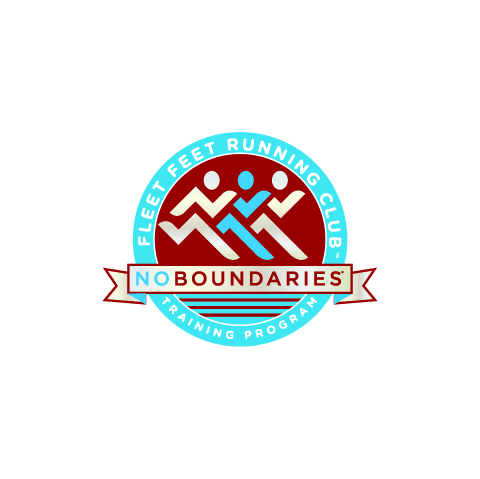 No Boundaries is a nationally awarded program that offers a proven approach to running that is safe and effective. By providing an encouraging, welcoming and safe environment, you can feel confident knowing this program is designed to help you reach your goals.
Program start date: Saturday, October 5th at the Armory - 9AM
No Boundaries offers 3 different training options:
No Boundaries - Learn To Run 5K  - The Learn To Run 5K program is designed to guide you safely and effectively into running, while learning valuable information on healthy living. Perfect for people who don't run at all, have a hard time starting, or are unsure of what to do. This program starts out walking and slowly builds into running, preparing you for a 5K (3.1 mile) race. (no running experience necessary and ability to walk 30 minutes before starting this program)
No Boundaries 2pt0 - The No Boundaries 2pt0 program is perfect for those who recently ran their first 5K and want to improve, but are not yet ready for longer distances. This program works to improve speed, endurance and performance at the 5K level. (Must be able to run 2 miles before starting 2pt0 Training)
No Boundaries 3pt0 - The No Boundaries 3pt0 program is perfect for those who can run between 2-3 miles, but have a hard time running further. This program will train you towards a 10K or 12K. Also great for those aspiring to complete a half marathon in the future. (Must be able to run 3 miles before starting 3pt0 Training).
Join us for a FREE informational session on Tuesday, October 1st from 6-7pm at Fleet Feet Armory. 
Goal Race – Reindeer Run 5K on Saturday, December 14th. Learn more here 

Program Schedule:

Wednesday workouts take place at Fleet Feet Armory from 6-7pm 
Saturday workouts take place at 8:00am from rotating locations including: Mendon Ponds Park, Durand, Charlotte and both Fleet Feet Stores. 
Trainees will also have 2 homework workouts to complete each week.
Program Fees: Enjoy Early Bird SPECIAL pricing $85.00 from now until September 21st. On September 22nd the fee increases to $90.00 until October 1st then on October 2nd the fee increases to $100.00.

Refund Policy: All refunds are partial. No refunds after 10/15/2019. ($20.00 admin fee will be deducted from original price paid) 
Join us for a free program information session on: 
Each program offers:
Flexible training schedule
Workoutlog online training tool
A safe environment for all athletic abilities
2 weekly organized, coached and mentored workouts
Great camaraderie and friendship
Supportive and encouraging coaches and mentors
Online private Facebook Group page
Graduation party after completion of the program
Special shopping day
Earn the Fleet Feet Running Club No Boundaries Badge!
For questions, contact our Training Program Coordinator Kate at kate.brett@fleetfeetrochester.com