FREE Saturday Paced Workouts with COVID-19 Safety Measures
Registration Required and please read safety protocol below and understand the waiver.

Date - Saturdays - 5-7 miles or 10-12 miles at Fleet Feet @ The Armory. The first loop of miles will be paced by Pace Leaders.
Registration is required - First come, first serve. Each pace group caps at 10 (pacer included)
Choose from a variety of different pace groups (see registration form for weekly pace group offerings).
Pace group offerings will vary each week based off pacer availability.
Registration will open Mondays - please note each wave has a cap. Each week you will need to sign up separately. If you register once it is only good for that weekends pace workout.


Schedule:
Saturdays starting at 7:30am - site map with group meeting spots will be emailed before each workout to maintain proper social distancing and safety of all. See site map below. Once you arrived please go directly to your pace group meeting place in the Armory back parking lot.
7:30am - 8:30/9:00/9:30 pace groups
7:33am - 10:00/10:30 pace groups
7:36am - 11:00/11:30 pace groups
7:39am - 12:00/12:30 pace groups
7:42am - 13:00/13:30/14:00 pace groups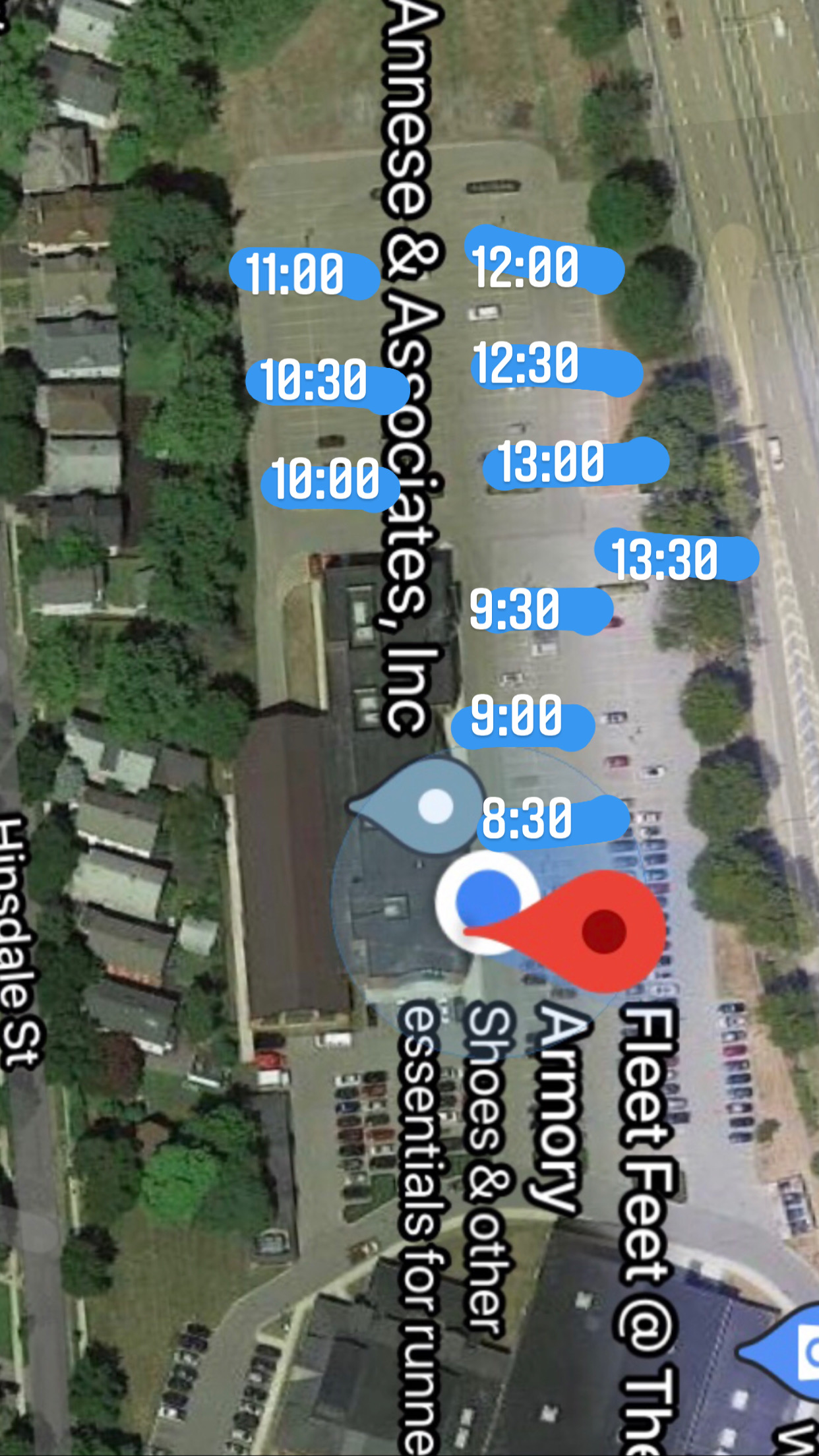 Location: Fleet Feet Armory - 155 Culver Road

Safety procedures & policy:
On Thursday afternoon an email goes out to all registered. This email will include your pace group meeting time/spot along with routes and any further directions
Groups are 10 total
Masks are required to be worn before and after the run, other than while exercising
Social distancing within groups is required, 6ft of distance must be maintained at all times
All participants are required to go directly to your leader, check in and answer the COVID-19 questionnaire
Please refrain from hugs, high fives, fist bumps, etc...
Pace group start times will be staggered for optimal social distancing
Anything can happen to a pace leader, if the pacer has an emergency and cannot make it day of, your group will have the option to self pace. We will do our best to notify all group members prior. (if time allows)
At this time, there will not be restrooms available nor water or provisions on course.
You must carry hydration and provisions.
All participants must read and agree to waiver and agree to all of the following below:
You have not tested positive for Covid-19 in the last 14 days
You have not shown symptoms for Covid-19 in the last 14 days
You have not been around anyone positive or showing symptoms for Covid-19 in the last 14 days
You do not currently have a fever above 100 degrees
You agree to stay home if you are not feeling well
You will wear a mask when not socially distanced from others other than while exercising.
Be prepared to answer these questions when you arrive.
Check in and gathering will take place outside only and we will remain 6 feet apart from each other. Masks required as we gather before and after the workout. Sorry, our bathrooms and water fountain are currently closed. Please bring your own water.
We cordially request that you adhere to all our safety guidelines and we reserve the right to deny entry to the group workout should protocols not be followed.


Questions, contact Kate - Kate@fleetfeetrochester.com
Saturday Paced Workouts More Info »
Program Start: Saturday, August 29th 2020
Program Schedule: Saturdays starting at 7:00am
Program Fee: FREE