Nathan SpeedDraw Plus
by Kevin McGuire, FIT Specialist
Don't let the cold temperatures and bulky clothes of winter fool you into thinking you don't need to hydrate. It's as important as ever. Instead, look to lighten your load. I like to carry as little as possible on any run, whether racing or just training. The SpeedDraw Plus 18-ounce bottle works great for my runs of up to 10 miles.  I carry this bottle without thinking about it using the adjustable hand strap and thumb hole, which allow me to ease my grip. Squeeze the bottle easily to get the right amount of fluid for each sip. I travel a lot and the storage pocket provides ample room for bulky rental car keys and many other things that may need to be stored while out on a run.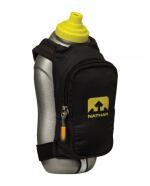 Additional product details:
Comfortable, insulated, easy-to-carry flask.
Weight: 3.9 ounces with bottle.
Storage capacity: 0.21 liters/18 ounces
Seven colors available