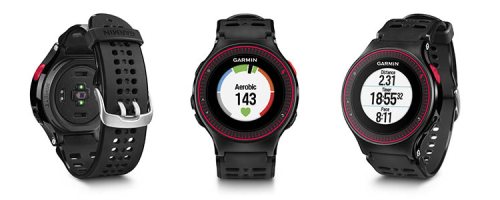 The Forerunner 225 is Garmin's newest watch that combines the functionality of the Forerunner 220 with  a built in optical sensor for wrist-based heart rate as well as an added activity tracker.
Some features include:
High resolution color display
Water resistant to 50 meters (swimmable)
7-10 hours GPS battery life and 4 weeks in standby mode (Time of Day)
Activity Tracker

Counts steps, distance and calories and alerts you with "Move!" if you haven't moved for at least 1 hour
A half circle in red on the screen will come up after 1 hour of inactivity with smaller red segments for each additional 15 minutes

Live Tracking allows people to follow you with live data in real time
Stop in today to have a FIT Specialist help you determine if this is the right watch for you!